Bihar Student Credit Card Scheme (BSCC) is launched by Bihar Government for Student Education Loan at very low Interest. Those candidate who want to study further upto higher education can read official notice and apply online. Bihar Student Credit Card Yojana 2020
Bihar Student Credit Card Scheme 2020 – Apply Online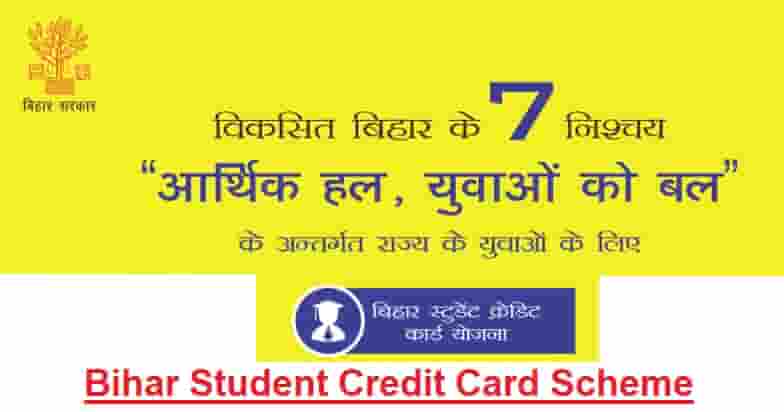 | | |
| --- | --- |
| Scheme | Bihar Student Credit Card Scheme 2020 |
| Category | Govt. Scheme |
| Authority | Bihar Govt. |
| Lauched on | 02-Oct-16 |
| Current Year | 2019 |
| State | Bihar |
| Loan Amount | Up to 4 Lakh |
| Apply Mode | Online Mode |
| Official Website | https://www.7nishchay-yuvaupmission.bihar.gov.in/ |
More Scheme related to bihar –
Bihar Student Credit Card Yojana (BSSC) – Detail
बहुत सारे लड़के लड़कियां अपनी उच्च शिक्षा पूरी नहीं कर पाती है बल्कि वे सब उच्च प्राप्त करना चाहती है लेकिन कुछ वित्तीय (पैसे) समस्या के कारण यह संभव नहीं हो पाटा है |
इसलिए बिहार सरकार ने बिहार स्टूडेंट क्रेडिट कार्ड योजना के अंतर्गत विद्यार्थियों के लिए शिक्षा लोन का प्रावधान किया गया है | जो विद्यार्थी १२वी पास करने के बाद अथवा पॉलिटेक्निक की पढाई करना चाहता है | ऐसे स्टूडेंट ही अप्लाई कर सकते है |
Bihar Berojgari Bhatta Online Registration 2020
Eligibility Criteria
The eligibility criteria information is given below –
You are residence of Bihar.
The student must have passed 12th Class. (If you are 10th pass and want to get admission in Polytechnic then you are eligible)
You will be provided Education load for your higher study – like B.A./ B.com/ B.Sc/ M.A/ M.Com and etc.
This scheme is for all Category.
बिहार स्टूडेंट क्रेडिट कार्ड योजना का क्या लाभ है ?
इस योजना से आपको निम्नलिखित लाभ मिलेगा –
You will be provide Education Loan up to 4 Lac.
Interest rate will 4% (For Female, Handicap, Transgender – 1%)
You need not any guarantor (State govt is guarantor itself.)
विद्यार्थयों के रहने, जीवन यापन के लिए निर्धारित के अतिरिक्त पाठ्य-पुस्तक, पठन-लेखन सामग्री क्रय के लिए प्रतिवर्ष 10,000/-
तकनिकी पाठ्यक्रम विद्यार्थियों के लिए 35,000/- रूपये तक लैपटॉप क्रय करने का प्रावधान
Document required of Bihar Student Credit Card Scheme 2020
All document is listed below –
Filled Application Form.
Aadhar Card of Applicant and co applicant (if available)
Copy of Pan Card of the student and co applicant
10th and 12th Marks Sheet Certificate
Copies of Letter conferring Scholarship etc (if available)
Approved course Structure
Proof of Admission
Fee Schedule
2 Photograph of Student/ Parents/ Guarator
Last Year Income Certificate/ form 16
Last two income tax return
Last 6 month bank statement
Proof of residence (ID/ Passport/ Voter Card/ Driving License)
Tax Receipt
How To apply Online
Here is full step by step detail for online apply.
You Can watch the video for Step by step online form process
Official Website Homepage
Visit official website – https://www.7nishchay-yuvaupmission.bihar.gov.in/

(Direct apply link is given below in the important link section)

Click on New Applicant Registration (If You are new)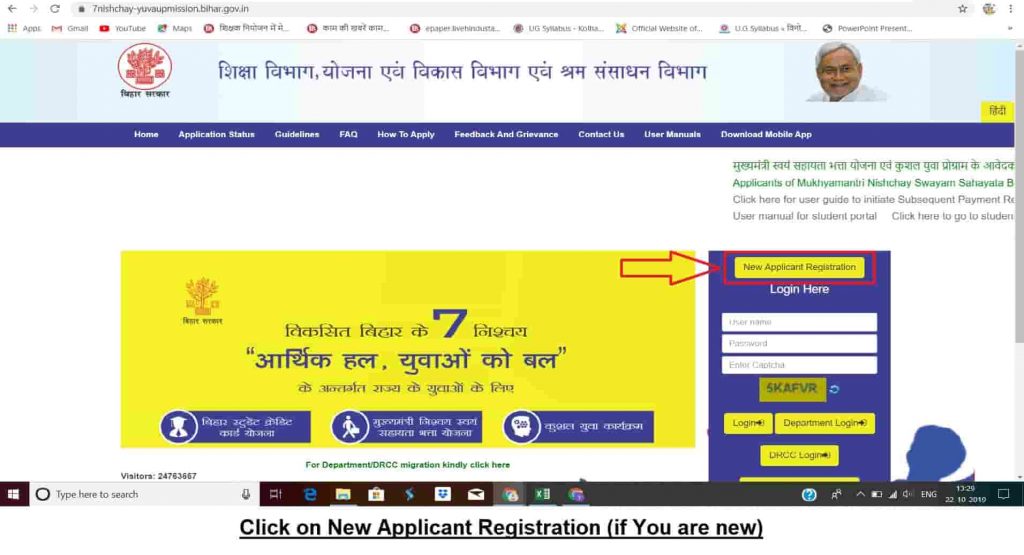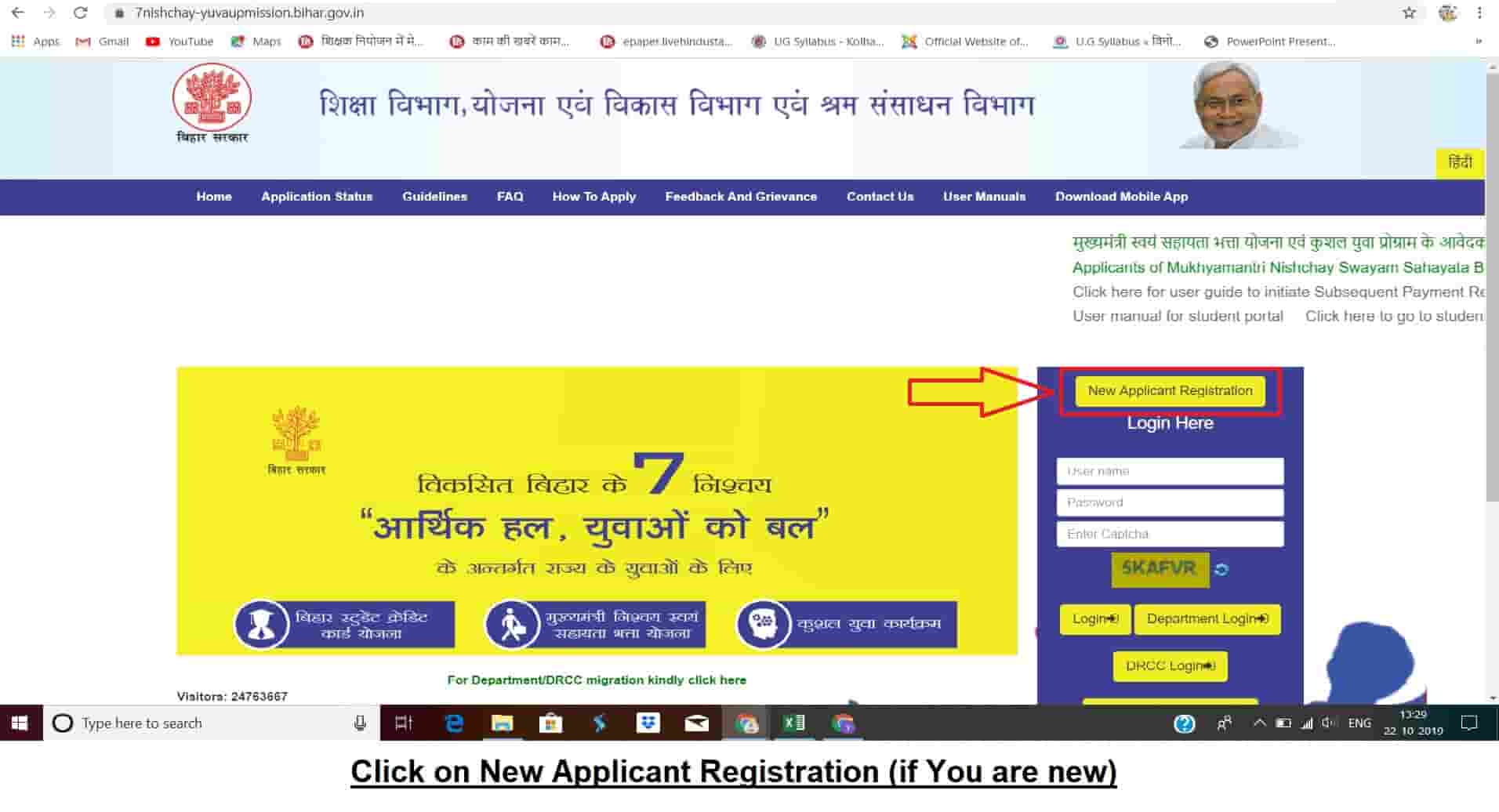 Filling the Form for New Registration
On clicking on "

New Applicant Registration

", You will be displayed the registration form
Fill up the given below details-

First Name as per 10th board.
Email ID
Mobile Number
And click on Send OTP
You will received an OTP on the mobile number and email Id provided by you. Enter the OTP .
Click on Submit Button.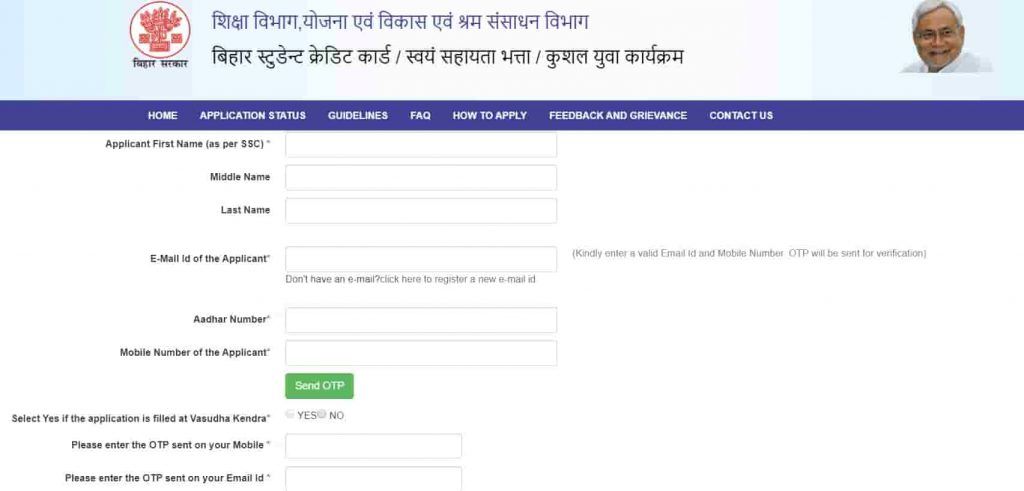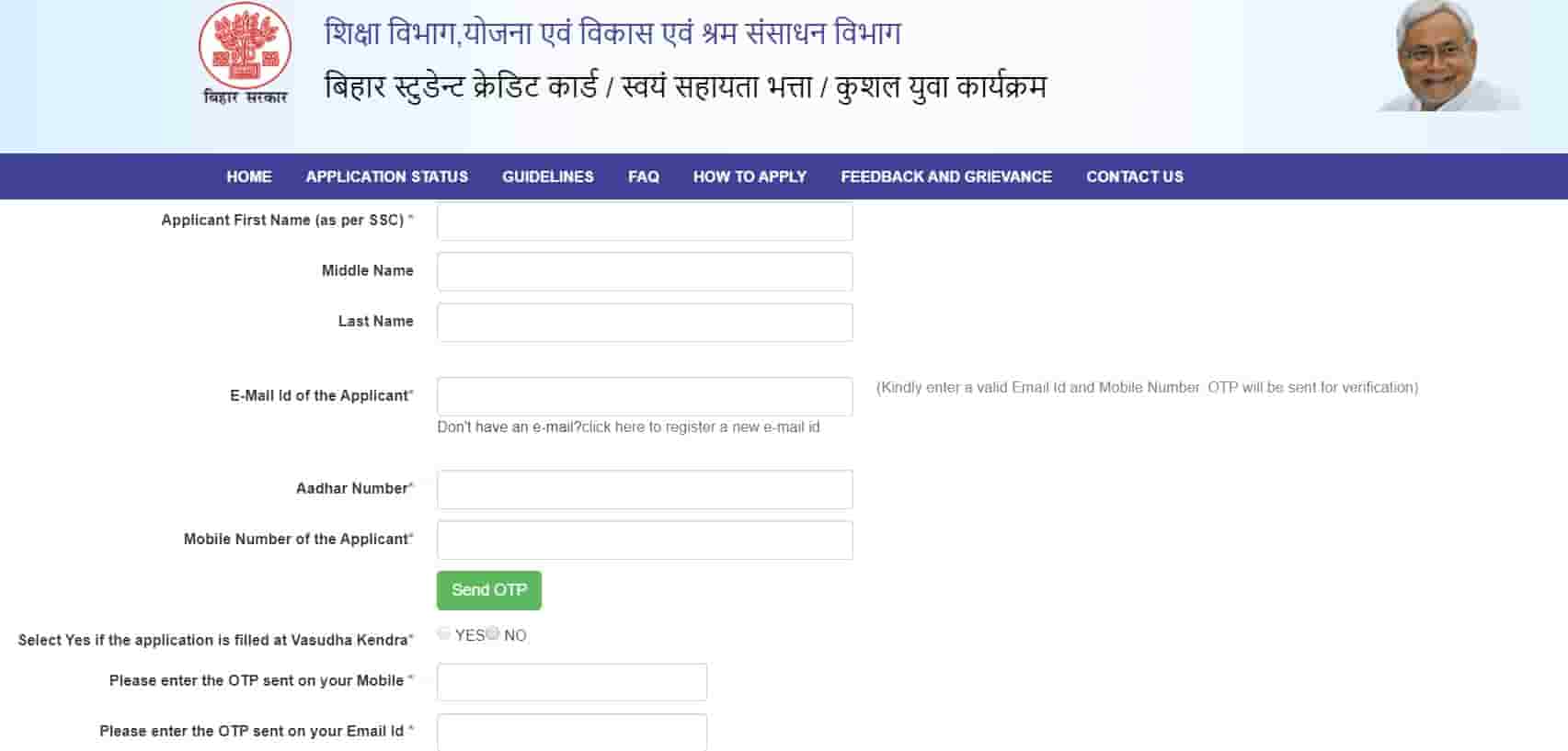 After The successful registration. Click on "Go to Home page"
Login and Change the password.
After Login Successfully, You will have to fill up the form completely.

Personal Information
Educational Qualification
Address Detail
and Other Detail.

Finally submit and print out the final application form.
Courses Under This Scheme for Approval of the Student Credit Card Scheme
There are many courses –
B.A/ B.Sc/ B.com (All Subject)
M.A/ M.Sc/ M.Com (All Subject)
Aalim
Shashtri
BCA
MCA
B.SC (Information Technology/ Computer Application/ Computer Science)
B.Sc (Agriculture)
B.Sc (Library Science)
Bachelor of Hotel Management & Catering Technology
B.Tech/ B.E
Hotel Management & Catering Technology
Hospital and Hotel Management
Diploma in Hotel Management (3 Years) (IHM Course)
Bachelor in Yoga (Entry Level +2)
B.Tech/ B.E/ B.Sc (Engineering All Branches)
MBBS
B.Sc Nursing
Bachelor of Pharmacy
Bachelor of Veterinary Medicine and Surgery (BVMS)
Bachelor of Ayurveda, Medicine and Surgery (BAMS)
Bachelor of Unani Medicine & Surgery (B.U.M.S)
Bachelor of Homeopathic Medicine & Surgery (B.H.M.S.)
Bachelor of Dental Surgery (B.D.S.)
General Nursing Midwifery (G.N.M)
Bachelor of Physiotherapy
Bachelor of Occupational Therapy
Diploma in Food, Nutrition/ Dietetics
Bachelor of Mass Communication/Mass Media/Journalism
B.Sc. in Fashion Technology/Designing/Apparel Designing/Footwear Designing
Bachelor of Architecture
Bachelor of Physical Education (B. P. Ed.)
M.Sc/M.Tech Integrated course
Diploma in Food Processing/ Food Production
Diploma in Food & Beverage Services
B.A./B.Sc.-B.Ed. (Integrated Courses)
Bachelor of Business Administration (B.B.A.)
Master of Business Administration (M.B.A.)
Bachelor of Fine Arts (B.F.A.)
BL/LLB (5 Year integrated Course)
Degree/Diploma in Aeronautical, Pilot Training, Shipping
Polytechnic
Important Link
Bihar Student Credit Card Scheme 2020, Bihar Student Credit Card Yojana 2020
यदि आपको कोई क्वेश्चन हो तो हमें कमेंट करके जरूर बताये, निचे कमेंट बॉक्स है उसके द्वारा आप हमें सन्देश भेज सकते है या फिर फिर कांटेक्ट पेज से भी समपर्क कर सकते है |
बिहार में निकलने वाली सारी एडमिशन, रिजल्ट और नौकरी की जानकारी इस वेबसाइट पर प्रदान की जाएगी | इसलिए इस वेबसाइट पर आने के लिए हमें गूगल में biharjobportal.com टाइप करे |
| | |
| --- | --- |
| बिहार जॉब की जानकारी के लिए यहाँ पर जाए | Bihar Job |
| एडमिशन से संभंधित जानकारी के लिए यहाँ पर जाए | Admission |
| Result से संभंधित जानकारी के लिए यहाँ पर जाए | Result |
| Job and Career Discussion के whatsapp Group ज्वाइन करे | Join Whatsapp Group |
For getting all bihar admission, result and govt job notification visit our website regularly. Type always in google search biharjobportal.com