Bihar D.El.Ed Merit List 2021 DIET & PTEC – Education Department, Bihar Govt is releasing District Wise Merit List on the official website. Those candidates who applied for Bihar D.El.Ed Admission they can download the Selection List on the official website. Link of Merit List for all the districts will be available soon here. Bihar D.El.Ed Cutoff List 2021
Latest Update – Bihar D.El.Ed Merit List 2021 is released on 22.09.2021. Candidates can download Merit List by given link below in the Important Link section. अगर आप बिहार डी.एल.एड मेरिट लिस्ट देखना चाहते है सभी जिलों का, तो आप इस पेज पर आते रहे | बहुत जल्द सभी जिलों का मेरिट लिस्ट अपलोड कर दिया जायेगा |
Bihar D.El.Ed Merit List 2021 DIET & PTEC यहाँ देखें – Download Selection List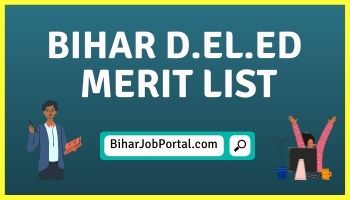 | | |
| --- | --- |
| Article | Bihar D.El.Ed Merit List 2021 |
| Category | Admission |
| Athority | Education Department, Bihar Govt |
| Course Name | Diploma in Elementary Education (D.El.Ed) |
| Session | 2021-2023 |
| Admission Year | 2021 |
| Course Duration | 2 Years |
| Start Online Application | 18.08.2021 |
| Merit List Status | Released on 22.09.2021 |
| Official Website | biharboardvividh.com |
बिहार डी.एल.एड मेरिट लिस्ट 2021
शिक्षा विभाग, बिहार सरकार द्वारा बहुत जल्द डी.एल.एड एडमिशन के लिए पहला मेरिट लिस्ट जारी किया जायेगा | प्रत्येक वर्ष शिक्षा विभाग द्वारा डी.एल.एड एडमिशन के लिए प्रवेश परीक्षा लिया जाता था लेकिन इस वर्ष, डी.एल.एड एडमिशन के लिए मेरिट लिस्ट जारी किया जायेगा | इसलिए ऐसे अभ्यर्थी जिन्होंने डी.एल.एड एडमिशन के लिए ऑनलाइन आवेदन किया है वे मेरिट लिस्ट डाउनलोड करके चेक कर सकते है |
Bihar DElEd Admission 2021 Procedure
बिहार शिक्षा विभाग, बिहार विद्यालय परीक्षा समिति द्वारा राज्य के सभी सरकारी D.El.Ed कॉलेजों में एडमिशन के लिए ऑनलाइन आवेदन करने का अंतिम तिथि समाप्त हो गया है और अब Bihar DElEd Merit List 2021 जारी किया जायेगा जो की मैट्रिक और इंटरमीडिएट में प्राप्त किये गए अंको के आधार पर मेधा सूचि तैयार किया जायेगा |
अगर आपने भी D.El.Ed में एडमिशन के लिए ऑनलाइन आवेदन किया है तो अब आप नीचे दिए गए लिंक की मदद से मेरिट लिस्ट डाउनलोड कर सकते है | राज्य के सभी जिलों के D.El.Ed कॉलेजों का लिंक नीचे दिया गया है लेकिन फिर भी अगर आपको कोई दिक्कत हो रहा है मेरिट लिस्ट डाउनलोड करने में तो आप कमेंट करके अपने सवाल पूछ सकते है |
Bihar D.El.Ed Cutoff List 2021
As soon as, the Education Department of Bihar released the Cutoff List for the Bihar D.El.Ed Admission. We will update here the link of Cutoff List, so that Applicants can easily check cutoff list. For further updates, candidates should keep coming on this page.
Documents Required
10th / Matric Marksheet
10th / Intermediate Marksheet
Caster Certificate
Passport Size Photo
Scanned Signature
Mobile Number
Email ID
Bihar D.El.Ed Admission Fee
Note – It is an expected fees
| | |
| --- | --- |
| Category | Fees |
| For Gen/ BC/ EBC | Rs.11500/- (Expected Fee) |
| For SC/ ST/ Diwyang | Rs,6000/- (Expected Fee) |
How to Check Bihar D.El.Ed Merit List 2021
If you want to check the merit list then candidates should follow some steps which are given below –
First of all, Visit the official website
At the homepage, click on the Merit list pdf link
Choose the option and select the district
Enter the some details
Check the college wise, category wise list
At last, the merit list will be displayed.
Important Date
| | |
| --- | --- |
| Application Start Date | 18.08.2021 |
| Application Last Date | 10.09.2021 |
| Date of Merit List | 22.09.2021 |
| Final Merit List & Waiting List Date | 06.10.2021 |
| Admission Last Date | 03.11.2021 |
Bihar Panchayat Chunav Voter List 2021 Download
Bihar Character Certification 2021 Apply Online
Important Links
Download Bihar D.El.Ed Provisional Merit List District Wise
अगर आप सभी जिले का मेरिट लिस्ट देखना चाहते है तो नीचे दिए गए लिंक की मदद से आप मेरिट लिस्ट डाउनलोड कर सकते है –
यदि आपको कोई क्वेश्चन हो तो हमें कमेंट करके जरूर बताये, निचे कमेंट बॉक्स है उसके द्वारा आप हमें सन्देश भेज सकते है या फिर फिर कांटेक्ट पेज से भी समपर्क कर सकते है |
बिहार में निकलने वाली सारी एडमिशन, रिजल्ट और नौकरी की जानकारी इस वेबसाइट पर प्रदान की जाएगी | इसलिए इस वेबसाइट पर आने के लिए हमें गूगल में biharjobportal.com टाइप करे |
FAQ's Bihar D.El.Ed Merit List 2021
बिहार डी.एल.एड मेरिट लिस्ट 2021 कब आएगा ?
बिहार डी.एल.एड मेरिट लिस्ट बहुत जल्द आने वाला है |
Where to check Bihar DElEd Merit List 2021 ?
Candidates can visit on the official website to check merit list.
Bihar D.El.Ed Selection List कैसे देखें ?
Selection List of Merit List डाउनलोड करने के लिए सम्बंधित डिस्ट्रिक्ट की ऑफिसियल वेबसाइट पर विजिट कर सकते है इसके अलावा डायरेक्ट लिंक इस आर्टिकल में भी दिया गया है |