Bihar Mukhyamantri Protsahan Yojana Online Form – Hello Friends, if you are studying in Bihar state then there is a good news for you that Government of Bihar Education Department has issued official notification for the scholarship in Bihar. Those students who has passed 10th/Matric Class in 2020. They can fill up online form for this scholarship. if you want to know more details about Bihar Mukhyamantri Vidyarthi Protsahan Yojana then you should read this article so that, you don't miss any information. Bihar E kalyan Online form 2020
If you also want to get all the latest Bihar Scholarship Updates or Bihar Yojana Update . Bihar Job, Bihar Exam Admit Card, Bihar Exam Result and Other information then you should visit at Biharjobportal.com daily.
Latest Update – Bihar Mukhyamantri Protsahan Yojana Online Form 2020 started from 10.12.2020. Apply link is given below in the Important link section.
Bihar Mukhyamantri Protsahan Yojana Online Form 2020 – Scholarship Details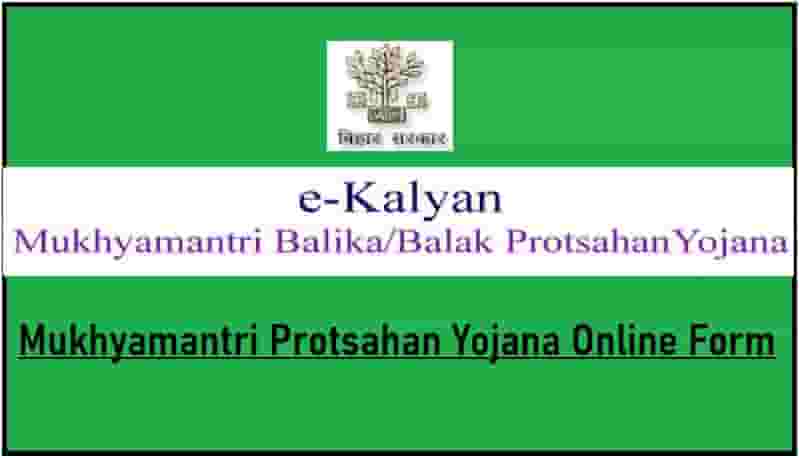 What is Bihar Mukhyamantri Protsahan Yojana? (बिहार मुख्यमंत्री प्रोत्साहन योजना क्या है )
This is a kind of Scholarship which is given by Bihar Govt to those students. who are studying in Bihar and passed Matric with first position in Bihar Board. Those students who are financial weak and unable to take further education, so this scholarship them to study for the next class without facing any financial problem. Students can scholarship as money in their Bank Account.
Those students who are eligible. They must apply online for this scholarship. Here, you will be getting all the information about Bihar Govt Scholarship. So, keep reading this article.
Education Qualification
Here is the education qualification given below –
Students must have passed 10th/Matric Class with first position and in some case with 2nd Division
Students must be local residents of Bihar.
Note – Students must read official notification before apply online.
Application Fee
Students don't have to pay application fees.
Bihar Mukhymantri Vidyarthi Protsahan Yojana 2020 Apply Online#bihar #Scholarship pic.twitter.com/yhgldeJOHy

— Bihar Job Portal (@biharjobportal) December 10, 2020
Scholarship Amount (प्रोत्साहन राशि)
| | | |
| --- | --- | --- |
| योजना का नाम | अहर्ता | प्रोत्साहन राशि |
| मुख्यमंत्री बालिका प्रोत्साहन योजना | मेट्रिक में प्रथम श्रेणी | Rs.10,000/- |
| मुख्यमंत्री विद्यार्थी प्रोत्साहन योजना | मेट्रिक में प्रथम श्रेणी | Rs.10,000/- |
| मुख्यमंत्री पिछड़ा वर्ग मेधावृत्ति योजना | मेट्रिक में प्रथम श्रेणी | Rs.10,000/- |
| मुख्यमंत्री अत्यंत पिछड़ा वर्ग मेधावृत्ति योजना | मेट्रिक में प्रथम श्रेणी | Rs.10,000/- |
| मुख्यमंत्री अनु० जाती , अनु० जनजाति मेधावृत्ति योजना | मेट्रिक में प्रथम श्रेणी | Rs.10,000/- |
| मुख्यमंत्री अनु० जाती , अनु० जनजाति मेधावृत्ति योजना | मेट्रिक में द्वित्य श्रेणी | Rs.8,000/- |
| मुख्यमंत्री अनु० जाती , अनु० जनजाति मेधावृत्ति योजना | इंटरमीडिएट में प्रथम श्रेणी | Rs.15,000/- |
| मुख्यमंत्री अनु० जाती , अनु० जनजाति मेधावृत्ति योजना | इंटरमीडिएट में द्वित्य श्रेणी | Rs.10,000/- |
How to Apply Online for Bihar Mukhyamantri Protsahan Yojana
Apply online for this scholarship is very easy. You just to follow given steps below. Here are the steps given below –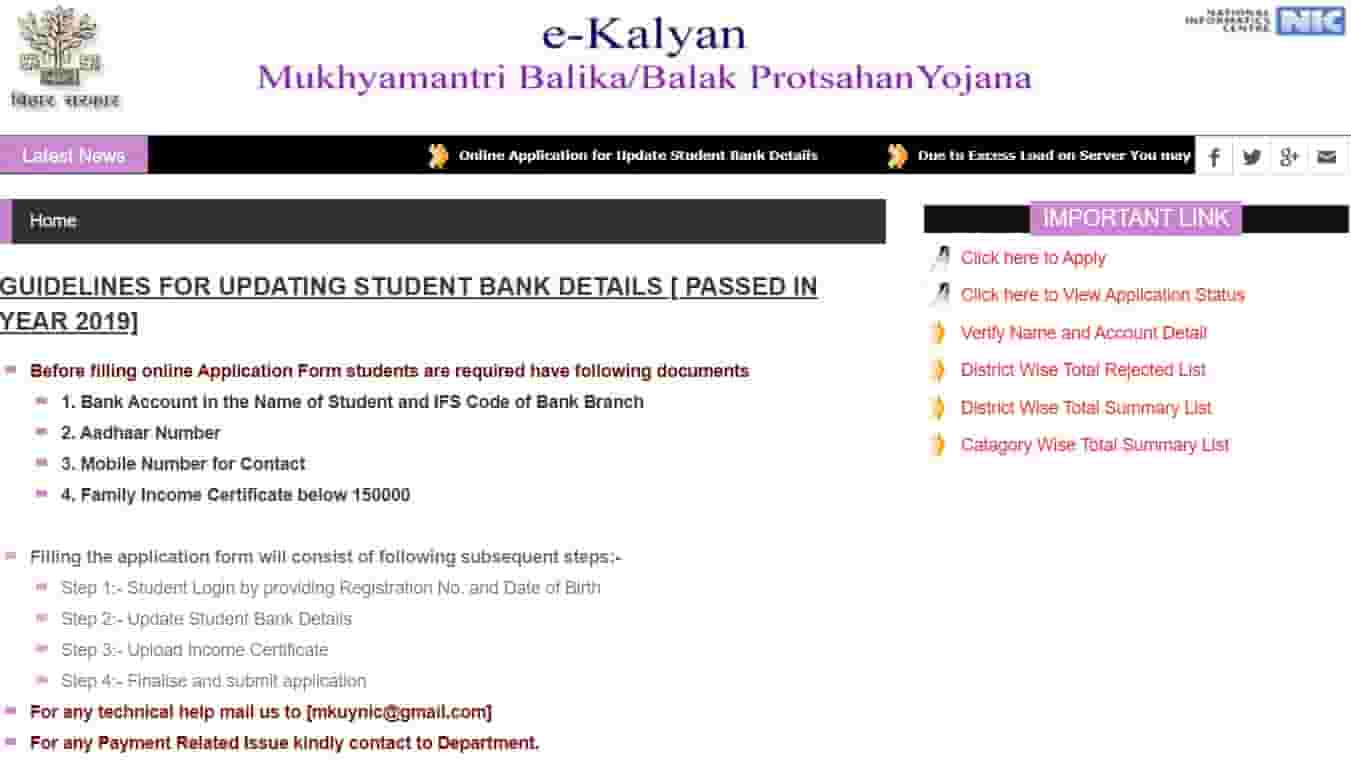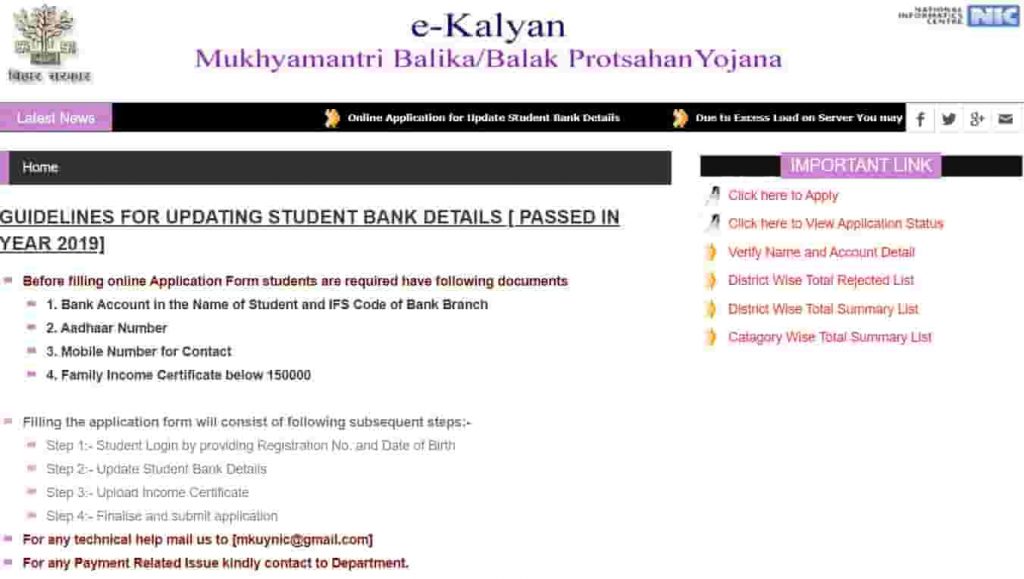 First of all visit at the official website of "Bihar Sarkar Ekalyan".
Click on "मुख्यमंत्री कन्या उत्थान योजना : – मुख्यमंत्री बालिका (माध्यमिक+2) प्रोत्साहन योजना 2020"
Now, Students Login using Registration number and Date of Birth.
Update Student Bank Account Details.
Upload Income Certificate.
At last, Finalise and submit application.
List of Required Details
Students are advised to keep all the necessary document along with them while filling up the online form. Here is the list of important documents given below –
Bank Account in the Name of Student and IFS Code of Bank Branch
Aadhaar Number
Mobile Number for Contact
Family Income certificate below 1,50,000
Help Desk
Telephone Number – 0612-2215323
Mobile Number – 8292825106, 7004360147, 9570646070
Email – [email protected]
Important Date
Here is the important date given below –
| | |
| --- | --- |
| Application Start Date | 10.12.2020 |
| Application Last Date | Not Mentioned |
Important Links
| | |
| --- | --- |
| Apply Online | Click Here |
| Verify Name and Bank Details | Click Here |
| District wise total students | Click Here |
| Official Notification | Download |
| Official Website | Click Here |
Also Check This –
यदि आपको कोई क्वेश्चन हो अथवा कोई सुझाव हो तो हमें कमेंट करके जरूर बताये, निचे कमेंट बॉक्स है उसके द्वारा आप हमें सन्देश भेज सकते है या फिर फिर कांटेक्ट पेज से भी समपर्क कर सकते है |
बिहार में निकलने वाली सारी एडमिशन, रिजल्ट और नौकरी की जानकारी इस वेबसाइट पर प्रदान की जाएगी | इसलिए इस वेबसाइट पर आने के लिए हमें गूगल में biharjobportal.com टाइप करे |
| | |
| --- | --- |
| बिहार जॉब की जानकारी के लिए यहाँ पर जाए | Bihar Job |
| एडमिशन से संभंधित जानकारी के लिए यहाँ पर जाए | Admission |
| Result से संभंधित जानकारी के लिए यहाँ पर जाए | Result |
| Job and Career Discussion के whatsapp Group ज्वाइन करे | Join Whatsapp Group |
Bihar Mukyamantri Protsahan Yojana Online Form 2020, बिहार मुख्यमंत्री प्रोत्साहन योजना ऑनलाइन फॉर्म, बिहार मुख्यमंत्री प्रोत्साहन योजना क्या है, Bihar E kalyan Online form 2020, Bihar Mukhyamantri Protsahan Yojana Online Form 2020