Bihar TSTMS Junior Maths Olympiad 2023: Bihar Mathematical Society द्वारा Talent Search Test in Mathematical Sciences ( TSTMS) Junior- For classes 6th to 12th class आयोजित करवाया जा रहा है | जो विद्यार्थी इसमें रूचि रखते है वे इसके ऑनलाइन आवेदन कर सकते है |
Latest Update: टेलेंट सर्च टेस्ट इन मैथमेटिकल साइंसेज (जूनियर) छठी से बारहवीं के लिए ऑनलाइन आवेदन 15 नवंबर 2023 से शुरू हो गया है |
Bihar TSTMS Junior Maths Olympiad 2024 by Bihar Mathematical Society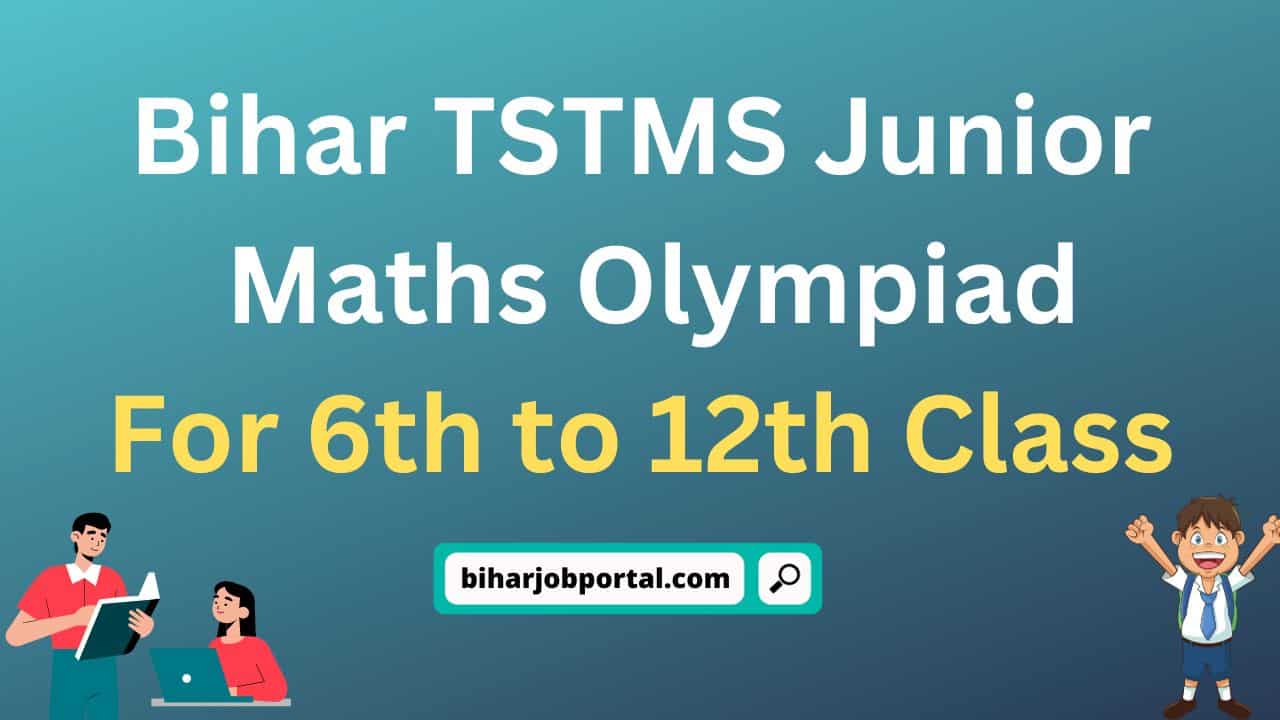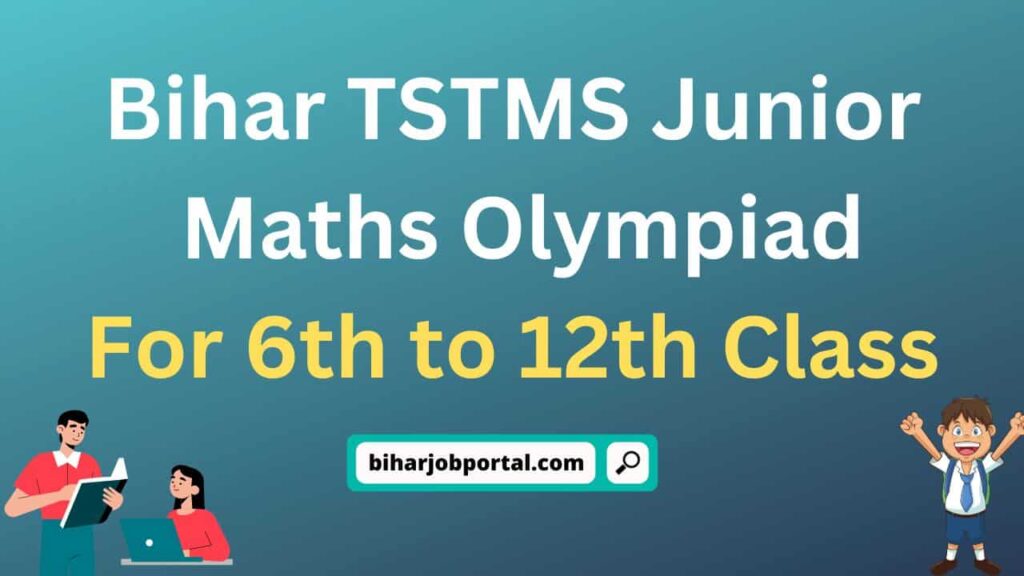 | | |
| --- | --- |
| Article | Bihar TSTMS Junior Maths Olympiad 2024 |
| Category | Scholarship |
| Conducted By | Bihar Mathematical Society |
| For Class | 06th to 12th (Junior) |
| Start Online Application Form | 15th November 2023 |
| Mode of Application Form | Online |
| Official Website | http://bmsbihar.org/ |
About Talent Search Test in Mathematical Sciences (TSTMS)
बिहार मैथमेटिकल सोसाइटी द्वारा जनवरी 2024 को आयोजित टैलेंट सर्च टेस्ट इन मैथमेटिकल साइंसेज जूनियर को 15 नवंबर 2023 से ऑनलाइन आवेदन http://bmsbihar.org/ ऑफिसियल वेबसाइट पर करना होगा | यह आवेदन बिलकुल निशुल्क है | इस प्रतियोगिता परीक्षा में चयनित छात्रों को पुरस्कृत किया जाएगा |
और चयनित छात्रों को आईआईटी, एनआईटी व देश के प्रतिष्ठित संस्थानों के विषय विशेषज्ञों द्वारा प्रशिक्षण भी दिया जाएगा |
How to Apply online TSTMS Junior Maths Olympiad 2024?
To apply for TSTMS Junior Maths Olympiad 2024 conducted by Bihar Mathematical Society, All steps have been given below.
First of all, you have to go to http://bmsbihar.org/
On the homepage, Click on the link "Application Form for TSTMS Junior (Class 6th to 12th) Exam 2023"
Now you can see all links such Online Application, Edit Form, Model Set, Notification and Syllabus.
Now click on link Online Application Form for applying online.
The application will appear and you just have to fill up the form correctly.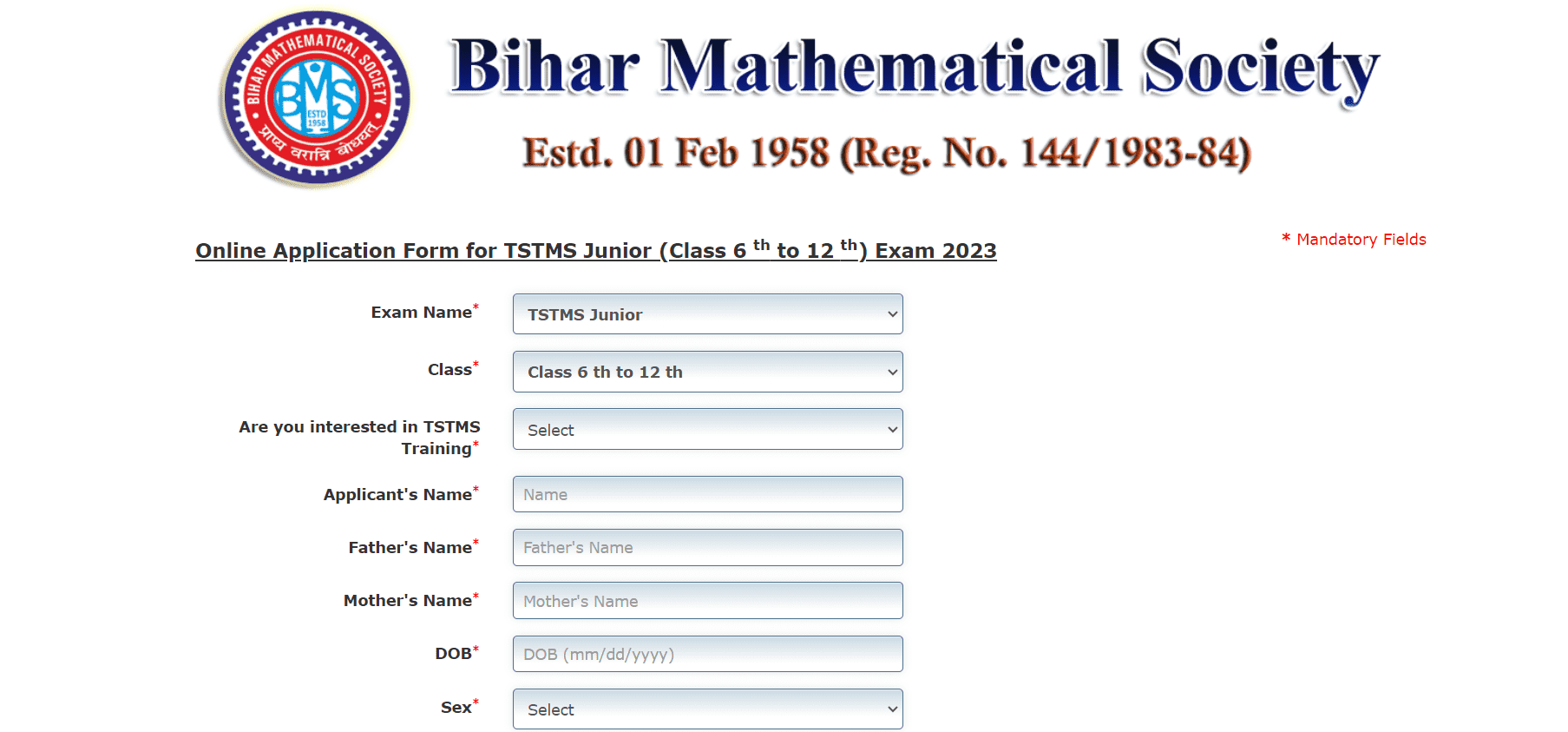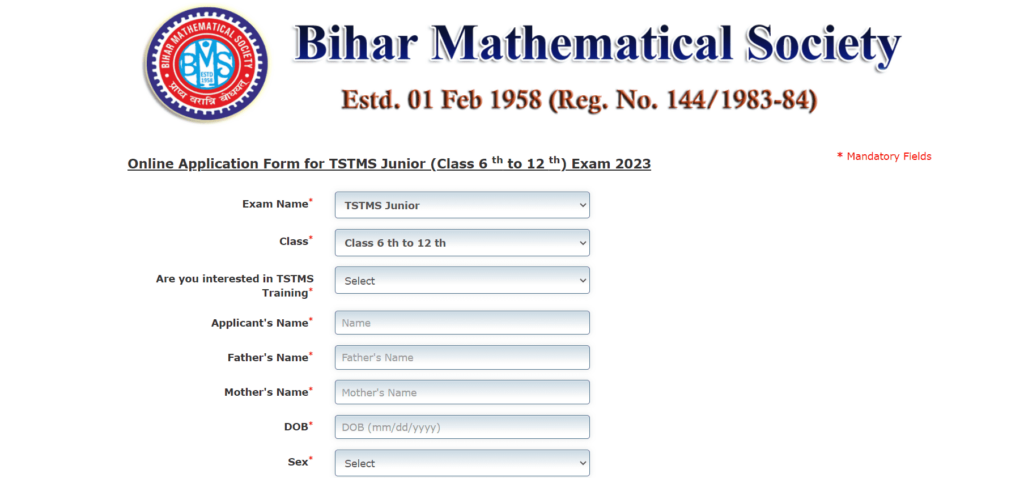 Important Date
| | |
| --- | --- |
| Start Date of Application Form | 15th November 2023 |
| Last Date for Application Form | 18th December 2023 |
| Admit Card Available | 25th to 31st December 2023 |
| Date of Examination | 09th to 10th January 2024 |
| Date of Result Publication | 18th January 2024 |
| Date of ISMS Training Camp | 01 to 30th June 2024 |
Important Link
यदि आपको कोई क्वेश्चन हो तो हमें कमेंट करके जरूर बताये, निचे कमेंट बॉक्स है उसके द्वारा आप हमें सन्देश भेज सकते है या फिर फिर कांटेक्ट पेज से भी समपर्क कर सकते है |
बिहार में निकलने वाली सारी एडमिशन, रिजल्ट और नौकरी की जानकारी इस वेबसाइट पर प्रदान की जाएगी | इसलिए इस वेबसाइट पर आने के लिए हमें गूगल में biharjobportal.com टाइप करे |