BPSC Motor Vehicle Inspector Exam Admit Card 2021 : Bihar Public Service Commission (BPSC) has Exam Date & Admit Card for Motor Vehicle Inspector. Those candidate who are interested must read official notification and can apply online. BPSC Motor Vehicle Inspector Recruitment
Latest Update – BPSC Motor Vehicle Inspector Exam Admit Card 2021 will be releasing on 10.09.2021. Candidates can download Admit Card by given link below. बिहार लोक सेवा आयोग द्वारा मोटरयान निरीक्षक लिखित प्रतियोगिता परीक्षा का डेट जारी कर दिया गया है
BPSC Motor Vehicle Inspector Recruitment 2020 – Exam Date & Admit Card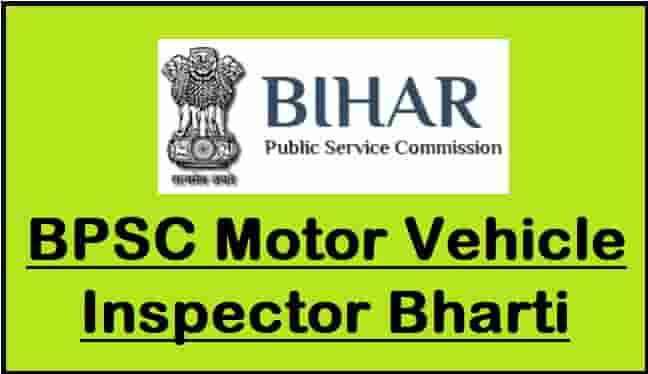 | | |
| --- | --- |
| Article | BPSC Motor Vehicle Inspector Recruitment 2020 |
| Category | Admit Card |
| Authority | Bihar Public Service Commission (BPSC) |
| State | Bihar |
| Advt No | 06/2020 |
| Name of Post | Motor Vehicle Inspector (मोटरयान निरीक्षक) |
| Total Post | 90 Posts |
| Start Online Application | 11th May 2020 |
| Admit Card Status | Available on 10.09.2021 |
| Official Website | bpsc.bih.nic.in |
बिहार लोक सेवा आयोग मोटरयान निरीक्षक एडमिट कार्ड 2021
बिहार लोक सेवा आयोग द्वारा मोटरयान निरीक्षक लिखित प्रतियोगिता परीक्षा का डेट जारी कर दिया गया है जिसे आप नीचे दिए गए ऑफिसियल नोटिफिकेशन में देख सकते है | इसके अलावा बिहार लोक सेवा आयोग द्वारा 10 सितम्बर 2021 को एडमिट कार्ड भी जारी कर दिया जायेगा |
Vacancy Detail
Name of Post

– Motor Vehicle Inspector

Total Post

– 90 Posts (Category Wise has given below)
| | |
| --- | --- |
| Category | No. of Post |
| अनारक्षित वर्ग | 26 |
| आर्थिक रूप से कमजोर वर्ग | 6 |
| अनुसूचित जाति | 20 |
| अनुसूचित जनजाति | 2 |
| अत्यंत पिछड़ा वर्ग | 22 |
| पिछड़ा वर्ग | 10 |
| पिछड़े वर्ग की महिलाएं | 4 |
Educational Qualification
किसी मान्यता प्राप्त बोर्ड से दसवीं कक्षा पास ।
केंद्रीय सरकार या राज्य सरकार द्वारा मान्यता प्राप्त किसी संसथान द्वारा प्रदान किया गया ऑटोमोबाइल इंजीनियरिंग में डिप्लोमा (तीन वर्षीय पाठ्यक्रम) या

यांत्रिक इंजीनियरिंग में डिप्लोमा (तीन वर्षीया पाठ्यक्रम) और

गियर वाली मोटर साईकिल और हलके मोटरयान चलाने के लिए अधिकृत चालन अनुज्ञप्ति (ड्राइविंग लाइसेंस) का धारण करना ।
Age Limit
The age limit as on 01.08.2019
Minimum Age – 21 Years
Maximum Age limit has given below –
| | |
| --- | --- |
| Category | Max Age |
| अनारक्षित (पुरुष) | 37 Years |
| पिछड़ा वर्ग | 40 Years |
| अत्यंत पिछड़ा वर्ग | 40 Years |
| पिछड़े वर्ग महिला एवं अनारक्षित महिला | 40 Years |
| अनुसूचित जाति एवं जनजाति (पुरुष एवं महिला) | 42 Years |
Application Fee
| | |
| --- | --- |
| Category | Application Fee |
| सामान्य अभ्यर्थियों के लिए | 750/- |
| केवल बिहार राज्य के अनुसूचित जाति/ अनुसूचित जनजाति के लिए | 200/- |
| बिहार राज्य की स्थायी निवासी सभी (आरक्षित जाति/ अनारक्षित वर्ग) महिला उम्मीदवार के लिए | 200/- |
| अन्य उम्मीदवार के | 750/- |
How to Apply Online For BPSC Assistant Engineer Bharti 2020 ?
The online application form filling procedure has given below –
First of all, Visit official website – http://www.bpsc.bih.nic.in/ (Direct Apply Link has given below in the important link section)
Download the notice for advt no – 06/2020 and read it carefully.
For Online Apply, Click on Link "Apply Online".
Now Click on Link "BPSC Online Application"
Now Click on Link "Apply Online" and Fill up the online application form completely.
After final submission of application form, you should take printout of final online filled application form.
Important Date
| | |
| --- | --- |
| Registration Start Date | 11.05.2020 |
| Registration Last Date | 20.06.2020 |
| Last Date for pay fee online | 24.06.2020 |
| Last Date of Submission | 30.06.2020 |
| Last Date for Sending Hard Copy | 04.07.2020 upto 05:00 PM |
| Download Admit Card from | 10.09.2021 |
| Exam Date | 17 & 18 September 2021 |
Important Link
Also Check this –
यदि आपको कोई क्वेश्चन हो तो हमें कमेंट करके जरूर बताये, निचे कमेंट बॉक्स है उसके द्वारा आप हमें सन्देश भेज सकते है या फिर फिर कांटेक्ट पेज से भी समपर्क कर सकते है |
बिहार में निकलने वाली सारी एडमिशन, रिजल्ट और नौकरी की जानकारी इस वेबसाइट पर प्रदान की जाएगी | इसलिए इस वेबसाइट पर आने के लिए हमें गूगल में biharjobportal.com टाइप करे |
BPSC Motor Vehicle Inspector Bharti 2020, BPSC Motor Vehicle Inspector Vacancy 2020, बिहार लोक सेवा आयोग मोटरयान निरीक्षक भर्ती 2020
For getting all bihar admission, result and govt job notification visit our website regularly. Type always in google search biharjobportal.com