CSBC Bihar Police Fireman Recruitment 2021 (Exam Date) – Central Selection Board of Constable (CSBC) is inviting Online Form for the post of Fireman (Constable Category) in Bihar Fire Service. Those candidates who are interested they must read the official notification before apply online. Bihar Police Fireman Online Form 2021, Bihar Police Fireman Vacancy 2021
अगर आप बिहार की जॉब, एडमिट कार्ड, रिजल्ट, एडमिशन, एग्जाम या स्कालरशिप से जुडी सभी अपडेट पाने के लिए BiharJobPortal.com पर आते रहे |
Latest Update – Bihar Police Fireman New Exam 2022 is 27.03.2022. केन्द्रीय चयन पर्षद (सिपाही भर्ती) द्वारा बिहार अग्निशमन सेवा में 'अग्निक' के 2,380 पदों पर नियुक्ति हेतु जारी किये गये विज्ञापन संख्या 01/2021 के क्रम में अभ्यर्थियों की लिखित परीक्षा दिनांक 27.03.2022 (रविवार) को आयोजित की जायेगी। परीक्षा का विस्तृत कार्यक्रम एवं प्रवेश-पत्र के संबंध में सूचना अलग से प्रकाशित की जाएगी
CSBC Bihar Police Fireman Recruitment 2021 – New Written Exam Date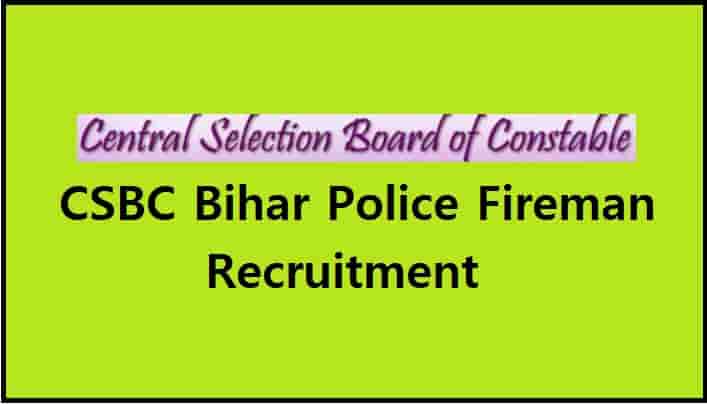 | | |
| --- | --- |
| Article | CSBC Bihar Police Fireman Recruitment 2021 |
| Category | Recruitment |
| Authority | Central Selection Board of Constable (CSBC) |
| Advt No. | 01/2021 |
| Post Name | Fireman |
| Total Post | 2,380 |
| Apply Start | 24.02.2021 |
| Written Exam Date | 27.03.2022 |
| Official Website | csbc.bih.nic.in |
Bihar Police Fireman Vacancy 2021
बिहार अग्निशमन से में "अग्निक' के रिक्त पदों पर पुरुष एवं महिला उम्मीदवारों की सीधी नियुक्ति के लिए विज्ञापन जारी कर दिया गया है जिसके लिए 24th फरवरी 2021 से ऑनलाइन आवेदन शुरू हो जायेगा | इसलिए ऐसे अभ्यर्थी जो ऑनलाइन आवेदन करना चाहते है उनको नीचे दिए गए सभी जानकारियों को जरूर पढ़ना चाहिए |
Here is vacancy details given below –
| | | | |
| --- | --- | --- | --- |
| Category | Total Post | Male | Female |
| General | 957 | 624 | 33 |
| EWS | 238 | 167 | 71 |
| SC | 378 | 237 | 141 |
| ST | 23 | 23 | 0 |
| EBC | 419 | 257 | 162 |
| BC | 268 | 179 | 89 |
| BC-Female | 97 | 0 | 97 |
Bihar Fireman Education Qualification
Candidates should have passed Intermediate (10+2) or equivalent examination from recognized board.
For more details, Read the official notification,
Application Fee
General/ EWS/ BC/ EBC – Rs.450/-
SC/ ST Candidates – RS.112/-
Candidates can pay the examination fee through Debit Card/ Credit Card/ Net Banking.
Age Limit
Age limit as on 01.08.2020
Minimum Age – 18 Years
Maximum Age – (Gen-25, OBC-27, SC/ST-30) Years
Physical Measurement Test (PMT)
Category

Height

Chest

UR & BC (Male)
165 cm
81-86 cm
EBC (Male)
160 cm
All Female
155 cm
x
SC & ST (Male)
160 cm
79-84 cm
Physical Endurance Test (PET)
For Male –
1.6 KM Race – Complete the race within 6 Minutes
Gola Fak (Shot Put) – Throw 16 Pound of Gola up to 16 Feet.
High Jump – Minimum 4 Feet.
For Female –
1 KM Race – Complete the Race within 5 minutes.
Gola Fak (Shot Put) – Throw 12 Pound of Gola up to 12 Feet.
High Jump – Minimum 3 Feet.
How to Apply for CSBC Bihar Police Fireman Recruitment 2021
If you want to apply online then you may visit the official website and apply online. Or you can also apply online by given link below in the Important Link section.
Document Required
Those candidates who wants to apply online they should have following documents –
Valid Mobile Number
Valid Email ID
Scanned Passport Size Color Photo (in JPG/ PNG Format) – Size 25 Kb
Scanned Hindi / English Signature (in JPG / PNG Formate) Size 25 Kb
Selection Procedure
Written exam
Physical Exam
Merit List
Important Date
| | |
| --- | --- |
| Application Start Date | 24.02.2021 |
| Application Last Date | 25.03.2021 |
| Exam Date | 06.06.2021 (Postponed) |
| New Exam Date | 27.03.2022 |
Important Links
Also check this –
CSBC Bihar Fireman Syllabus 2021
General Science – Environment, General Knowledge of Geographical Condition of Bihar, Economics Aspects, General Knowledge of Political Condition of Bihar, Major features of Indian Agriculture, Indian History and Culture, Major features of Natural Resources, Community Development, Indian Constitution and Policy, Panchayat Raj, Indian Geography, Freedom Movement.
English – Comprehension, Cloze Test, Sentence Correction, Antonyms, Sentence Error, Fill in the Blanks, Synonyms.
Hindi – Pronouns, Translation of Sentences, Nouns, Adjectives, Vocabulary, Adverbs, Grammar, Synonyms, One Word Substitution, Antonyms.
Mathematics – Time and Distance, Fundamental Arithmetical Operations, Ration and Proportion, Averages, Permutations and Combination, Time and Work, Mensuration, Discount, Profit and Loss, Compound Interest, Partnership, Simple Interest, Percentages, Probability.
Physics – Kinetic Theory of Gases, Gravitation, Physical World and Measurements, Oscilllations and Waves, Properties of Bulk Matter, Electromagnetic Waves, Optics, Motion of System Particles and Rigid Body, Laws of Motion, Magnetic Effects of Current and Magnetism, Kinematics, Electromagnetic Induction and Alternating Current, The Behavior of Perfect Gas, Work, Energy and Power, Electrostatics, Heat and Thermodynamics, Current Electricity.
Biology – Paleontology, Cell Biology, Macromolecules, Diffusion and Osmosis, Homeostasis, Evolution, Immunology, Chemistry in Biology, Taxonomy, Botany, Virology, Zoology, Ecology.
Chemistry – Measurement, Acids and Bases Transition – Metal Chemistry, Introduction to Biochemistry, Solubility and Complex – Ion Equilibria, Elements, Compounds and Mixtures, Gas – Phase Reactions, Introduction to Polymers, Structure of the Atom, Main-Group Metals Redox Reactions, An Introduction to Ionic Compounds, Reaction Mechanisms, Introduction to Organic Chemistry, The Chemistry of Nonmetals, Intermolecular Forces, Gases and Solutions, Introduction to Materials Science, The Covalent Bond, Oxidation and Reduction Reactions, Chemical Thermodynamics, Acid-Base Equilibria, Electrochemistry, Nuclear Chemistry, Thermo Chemistry, The Structure of Solids Liquids, Stoichimetry.
Economics – Economics Development of Bihar and India, Introduction, Development Experience of India: A comparison with neighbors, Statistical Tools and Interpretation, Development Experience of Bihar : A comparison with other states, Forms of Market and Price Determination, Current Challenges Facing Economy of Bihar and India, Consumer Behavior and Demand, Development Policies and Experience (1947-90), Collection of Data, Economic Reforms Since – 1991, Determination of Income and Employment, Introductory Macroeconomics, Organization of Data, Government Budget and the Economy, International Trade, National Income and related aggregates, Money and Banking, Introductory Macroeconomics, Presentation of Data, Producer Behavior & Supply.
History – Partition and Independence, Pre-History and Proto-History, The revolt of 1857, Three Ideologies and their mutual conflicts, The Nationalist movement (1918-1947) Spread of Modernisation, Ancient Civilization, The Indian awakening in the 19th Century, Visions of the new state, Further changes or post-modernisation, Indian History, The Medieval Order, Modernisation affirmed, Sanity Vs Motivated Politics, The Pre-Historic world, Vehicles of Modernization.
Geography Topics – Biosphere, Fundamentals of Physical Geography, Hydrosphere (Water) oceans, Man and Environment, Fundamental of Human Geography, Geography as a discipline, Earth and Climate, Human Activities, Transport, Communication & Tools, Landforms, Human Settlement, Economic Geography, Resource, Major Industries of the world, Main crops of the world.
Political Science – State, The Parliament, State Executive, Key Concepts, Union Executives, Foreign Policy of India, Sovereignty, Concepts of Politics, National Integration and Challenges, State Legislature, Theories of the Origin of State, Indian Judiciary, Electoral Systems in India.
यदि आपको कोई क्वेश्चन हो तो हमें कमेंट करके जरूर बताये, निचे कमेंट बॉक्स है उसके द्वारा आप हमें सन्देश भेज सकते है या फिर फिर कांटेक्ट पेज से भी समपर्क कर सकते है |
Bihar Police Fireman Bharti 2021, CSBC Fireman Recruitment 2021, Bihar Fireman Vacancy 2021, बिहार पुलिस अग्निक सेवा भर्ती 2021
बिहार में निकलने वाली सारी एडमिशन, रिजल्ट और नौकरी की जानकारी इस वेबसाइट पर प्रदान की जाएगी | इसलिए इस वेबसाइट पर आने के लिए हमें गूगल में biharjobportal.com टाइप करे |
| | |
| --- | --- |
| बिहार जॉब की जानकारी के लिए यहाँ पर जाए | Bihar Job |
| एडमिशन से संभंधित जानकारी के लिए यहाँ पर जाए | Admission |
| Result से संभंधित जानकारी के लिए यहाँ पर जाए | Result |
| Job and Career Discussion के whatsapp Group ज्वाइन करे | Join Whatsapp Group |
FAQ's Bihar Fireman Vacancy 2021
What is the Official Website to Apply for Bihar Fireman Recruitment 2021 ?
Those candidates who wants to apply online for Bihar Fireman Vacancy 2021 they can apply online from the official website – csbc.bih.nic.in
What is the Total Post for the Recruitment of Bihar Fireman 2021
Total Post for the Recruitment of Bihar Fireman 2021 is – 2,380
What is the Exam Date for Bihar Fireman Vacancy 2021 ?
Central Selection Board of Constable (CSBC) has released new written exam date which is going to be held on 27th March 2022
बिहार अग्निशमन सेवा में 'अग्निक' पद के लिए ऑनलाइन आवेदन कब से शुरू होगा ?
बिहार अग्निशमन सेवा में 'अग्निक' पद के लिए आप 24th फरवरी 2021 से ऑनलाइन आवेदन कर सकेंगे |
What is the Last Date to Apply Online for Bihar Fireman Vacancy 2021 ?
Those candidates who are eligible to apply they can apply before 25.03.2021
What is the Education Qualification of Bihar Fireman Vacancy 2021 ?
Candidates should have passed Intermediate (10+2) or equivalent examination from recognized board.
What is the Full Form of CSBC ?
The Full Form of CSBC is – Central Selection Board of Constable