JNV 6th Class Entrance Exam Result 2021 : Navodaya Vidyalaya Samiti (NVS) has declared 6th Class Entrance Exam Result 2021. The Candidate are selected based on merit. Those candidate who appeared in the JNV 6th Class Entrance Exam 2021 can check their result now. जवाहर नवोदय छठी कक्षा प्रवेश परीक्षा परिणाम 2021, JNV 6th Class Result 2021, Jawahar Navodaya 6th Class Entrance Exam Result 2021
Latest Update – JNV 6th Class Entrance Exam Result 2021 is declared now. You can check Result by given below link.
JNV 6th Class Entrance Exam Result 2021 – Check Now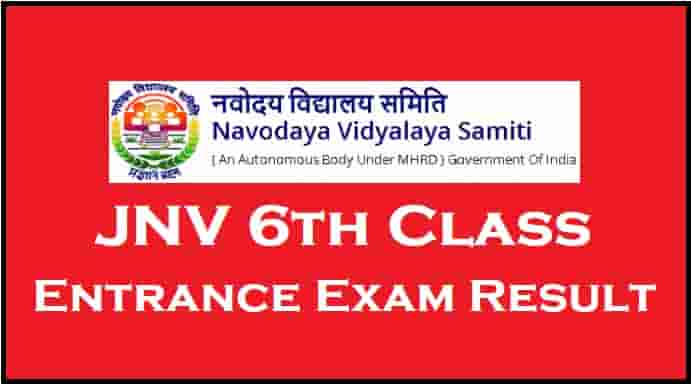 | | |
| --- | --- |
| Article | JNV 6th Class Entrance Exam Result 2021 |
| Category | Result |
| School Name | Jawahar Navodaya Vidyalaya (JNV) |
| Class | 6th Class |
| Result for | Entrance Exam |
| Mode of Checking Result | Online Mode |
| Official Website | navodaya.gov.in |
जवाहर नवोदय विद्यालय कक्षा 6 प्रवेश परीक्षा रिजल्ट 2021
नवोदय विद्यालय समिति द्वारा छठी कक्षा में एडमिशन के लिए 11 अगस्त 2021 को आयोजित प्रवेश परीक्षा का परिणाम 28 सितम्बर 2021 को जारी कर दिया गया है | अतः ऐसे विद्यार्थी जो प्रवेश परीक्षा में शामिल हुए थे वह अपना रिजल्ट चेक कर सकते है | रिजल्ट देखने का डायरेक्ट लिंक नीचे दिया गया है |
Details mentioned on the JNVST Result 2021
JNVST result is published as the selection list of candidates who have qualified for the exam and are eligible for admission. Here are some details below which will be mentioned in the Result –
Name of the selected candidate
Roll number
Date of Birth
Name of the state of the candidates
Date of the exam
Category of the candidate
Gender
District
Area (Urban/Rural)
Other information
How to Check JNV 6th Class Selection Test Result 2021?
The full for checking result has given below –
First of all, Visit official website – cbseitms.nic.in
On home page, There is a link in ANNOUNCEMENT section "Click here for Selection Test (CLASS VI) 2021 Result"
After clicking on link, you will see the "SELECTION TEST (CLASS VI) 2021 RESULT" Page


Now Enter your roll number (as given on your admit card) , Enter your Date of Birth and Click on Check Result Button.
So You can check your result this way.
Important Link
जिस विद्यार्थी का सिलेक्शन हो चूका है उनका रिजल्ट में "You are selected" लिखा आएगा |
Also Check –
अगर आपको अभी भी रिजल्ट देखने में कोई दिक्कत आ रहा है तो आप नीचे दिए गए वीडियो को देख सकते है जिसमे रिजल्ट चेक करने के पूरा प्रोसेस बताया गया है –
Enrollment Policy for 6th Class Admission
Admission in Jawahar Navodaya Vidyalaya is made on the basis of a selection Test, designed and conducted by the CBSE, The test is called the Jawahar Navodyaya Vidyalaya Selection Test (JNVST). It is of non-verbal nature, class-neutral and designed so as to ensure that talented children from rural areas are able to compete without facing any disadvantage. Special care is taken to ensure that children from far flung areas get admission forms free of cost, without any difficulty. Sufficient publicity is done through Doordarshan, All India Radio, local newspapers, pamphlets, Vidyalaya website and through visits of Principals and teachers of Navodaya Vidyalayas to the local schools of the district.
यदि आपको कोई क्वेश्चन हो तो हमें कमेंट करके जरूर बताये, निचे कमेंट बॉक्स है उसके द्वारा आप हमें सन्देश भेज सकते है या फिर फिर कांटेक्ट पेज से भी समपर्क कर सकते है |
बिहार में निकलने वाली सारी एडमिशन, रिजल्ट और नौकरी की जानकारी इस वेबसाइट पर प्रदान की जाएगी | इसलिए इस वेबसाइट पर आने के लिए हमें गूगल में biharjobportal.com टाइप करे |
Frequently Asked Question
When will the Jnv 6th Class entrance test 2021 be declared?
The selection test result has now published.
JNV 6th Result 2021 kab aayega?
JNV 6th Result 28 सितबर 2021 को जारी कर दिया गया है |
How to Download JNV Class 6th Result 2021 ?
1. Visit on the official website of Navodaya Vidyalaya Samiti
2. Find the "Download Result" Option
3. Now, You Will Get the Download Result Option
4. Login with User ID & password
5. Click on Download Result Option submit
6. Download and Print the Result for future reference
Where to Check JNV 6th Admission Entrance Test result 2021?
You can check it through official website – cbseitms.nic.in