Kendriya Vidyalaya Class 1 Admission Online Form 2023 : Kendriya Vidyalaya Sangathan (KVS) invites application for Class 1 to 11th Admission 2023. Interested candidates can fill up online form for taking admission for Academic session 2023-24. Candidates must read the official notification before apply. KVS Class 1 Admission 2023
If you want to get all the updates of Kendriya Vidyalaya Admission, Exam Date, Admit Card, Result updates then you should visit on BiharJobPortal.com regularly. Here, you will be getting all the updates.
Latest Update – Kendriya Vidyalaya Admission Online Form 2023 apply online is starting from 27.03.2023. Candidates can apply online by below link in the Important Link section.
Kendriya Vidyalaya Admission Online Form 2023 for Class 1-11th: KVS Notification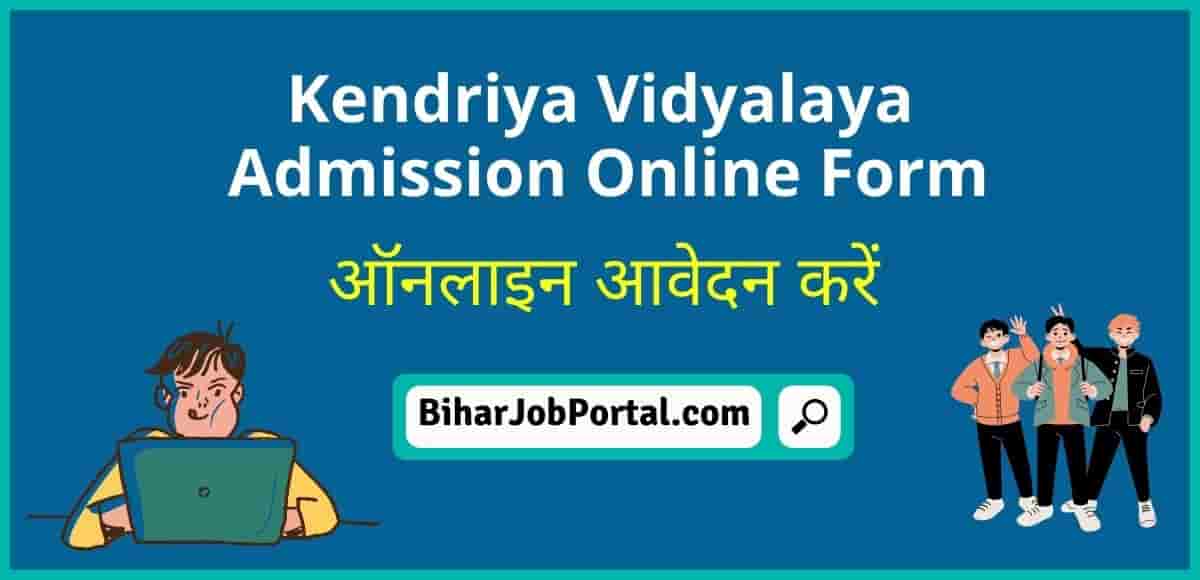 | | |
| --- | --- |
| Article | Kendriya Vidyalaya Admission Online Form 2023 |
| Category | Admission |
| Authority | Kendriya Vidyalaya Sangathan (KVS) |
| Admission for Class | Class 1 to 11th |
| Session | 2023-2024 |
| Apply Start | 27.03.2023 |
| Mode of Apply | Online Mode |
| Official Website | kvsangathan.nic.in |
Kendriya Vidyalaya Admission Online Form 2022
केंद्रीय विद्यालय समिति द्वारा कक्षा 1 में एडमिशन के लिए ऑफिसियल नोटिफिकेशन जारी कर दिया गया है | ऐसे छात्र-छात्रा जो केंद्रीय विद्यालय में एडमिशन लेना चाहते है वे 27 मार्च 2023 से 17 अप्रैल 2023 तक ऑनलाइन फॉर्म भर सकते है | ऑनलाइन आवेदन करने के लिए ऑफिसियल वेबसाइट पर लिंक एक्टिव कर दिया जायेगा | अभ्यर्थी को ऑनलाइन आवेदन करने से पहले ऑफिसियल नोटिफिकेशन जरूर पढ़ना चाहिए |
Eligibility Criteria
A Child must be 6 years old as on 31st March in the academic year in which admission is sought for Class I. (Child born on 1st April should also be considered .)
Age Limit for Class 1 to Class 10th
| | | |
| --- | --- | --- |
| Class | Minimum age | Maximum age |
| I | 6 years | 7 years |
| II | 6 years | 8 years |
| III | 7 years | 9 years |
| IV | 8 years | 10 years |
| V | 9 years | 11 years |
| VI | 10 years | 12 years |
| VII | 11 years | 13 years |
| VIII | 12 years | 14 years |
| IX | 13 years | 15 years |
| X | 14 years | 16 years |
Note- Relaxation of two years in the upper age of the differently-abled students is applicable.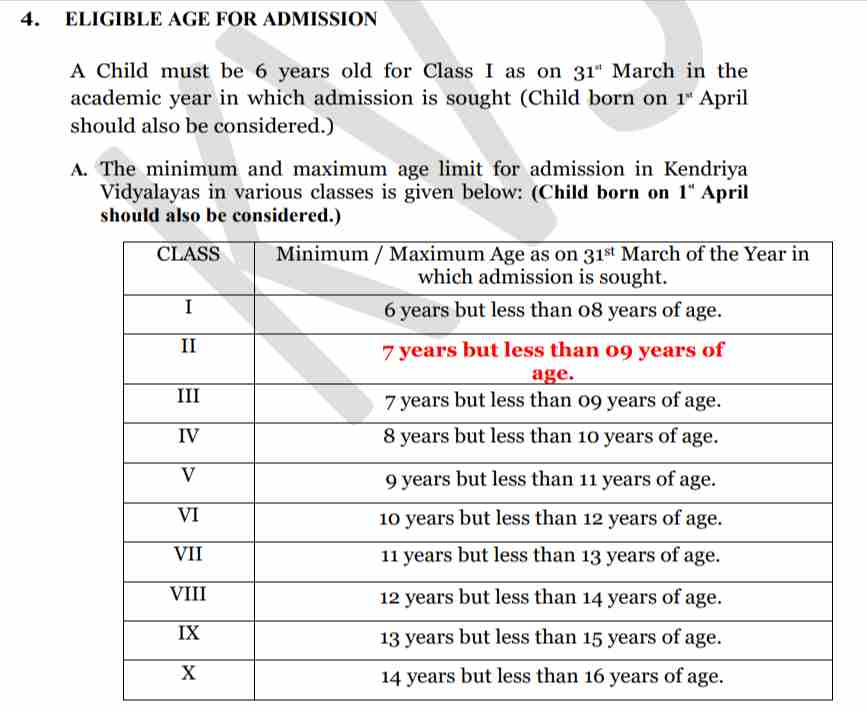 KVS Application Fee
No fee to be charged from the children admitted under the 25% quota prescribed under RTE Act 2009.
How to Apply for KVS Admission
Read the General Instructions completely.
Registration (sign-up) of first-time user.
Login (sign-in) to the Admission application portal
Filling in admission application form and uploading documents
Basic information
Parent details
Choice of schools
Upload Documents
Declaration and submit
Once the portal is opened, instructions for filling the form will be displayed. It is mandatory for each first-time user to read those instructions before registering and filling the form. Once a first-time user reads and clicks on the declaration checkbox (certifying that the user has read and understood all instructions) the Proceed button will be enabled. On clicking the Proceed button, the user will be directed to Sign-up/Sign-in page.
Important Date
Events
Schedule
Release of admission guidelines
21 March
Online KVS registration for class-1
27 March 2023
Last date for registration for class-1
17 April 2023
Release of provisional selection list and admission for class-1
1st List: 20th April
2nd List: 28th April
3rd List: 4th May
Publication of provisional selection list of candidates
as per the priority service category for UR
seats, (if any)
–
Second notification for RTE provision, ST, SC (if sufficient number of seat registration not receive)
3rd May
Registration date: 4 to 11 May
Meri List: 18 to 25 May
Offline Registration for class 2 onwards (except class XI)
3 April 2023
KVS Last date of registration class 2-8
12 April 2023
Display of selection list for class 2 onwards
17 April
Admission to class 2 onwards
18 to 19 April
Last date for admission (except for 11)
30 June
For KV students only: Registration for class- 11
Within a week after the declaration of class 10 board result
For KV student only: Declaration of selection list and admission for class 11
Within 2 weeks after the declaration of class X board result
For Non- KV students: Registration, admission in class 11
Only if seats remain vacant after admission of KV students in class 11
Last date for admission to class 11
30 days from the date of
publication of class 10th
results
Important Links
Important Instructions
You are strongly advised NOT to submit multiple applications to the same Vidyalaya for the same child. If multiple registration forms are submitted for the same child in the same Kendriya Vidyalaya, only the last application will be considered in admission process.
In a double shift Kendriya Vidyalaya, each shift will be treated as separate Vidyalaya for admission purpose.
In order to ensure smooth and quick filling of the application form, please keep the following ready:

A valid mobile number with Indian SIM card
A valid email address
A digital photograph or scanned photograph of the child seeking admission (JPEG file of size at most 256KB)
A scan copy of the child's birth certificate (JPEG or PDF file of size at most 256KB)
Details of government certificate in case you are applying under economically weak section
Transfer details of parent/grandparent whose service credentials will be used in the application
Details provided at the time of registration cannot be subsequently changed in the admission form. Please enter these details correctly and exactly as per documentary evidence (like birth certificate) available with them.
यदि आपको कोई क्वेश्चन हो तो हमें कमेंट करके जरूर बताये, निचे कमेंट बॉक्स है उसके द्वारा आप हमें सन्देश भेज सकते है या फिर फिर कांटेक्ट पेज से भी समपर्क कर सकते है |
बिहार में निकलने वाली सारी एडमिशन, रिजल्ट और नौकरी की जानकारी इस वेबसाइट पर प्रदान की जाएगी | इसलिए इस वेबसाइट पर आने के लिए हमें गूगल में biharjobportal.com टाइप करे |
FAQ's Kendriya Vidyalaya Admission Online Form
केंद्रीय विद्यालय की कक्षा 1 में एडमिशन के लिए ऑनलाइन आवेदन कब से शुरू होगा?
केंद्रीय विद्यालय की कक्षा 1 में एडमिशन के लिए ऑनलाइन आवेदन 27 मार्च 2023 से शुरू हो जायेगा
केंद्रीय विद्यालय की कक्षा 1 में एडमिशन के लिए उम्र सीमा क्या है ?
6 वर्ष के बच्चे केंद्रीय विद्यालय की कक्षा 1 में एडमिशन के लिए योग्य है |
How to Apply Online for KVS Class 1 Admission 2023-24?
Candidates can visit the official website of KVS to apply for Class 1 Admission.
What is the Official Website of Kendriya Vidyalaya ?
The official website of Kendriya Vidyalaya – kvsangathan.nic.in