LNMU UG Part 1 Spot Admission 2022-25 : Lalit Narayan Mithila University (LNMU) has released Notification for Undergraduate Spot Admission. Those students who did not take admission in Lalit Narayan Mithila University. Now, students can take admission through Lalit Narayan Mithila University Spot Admission 2022
If you want to get all the updates of Bihar Job, Admit Card, Result, Admission, Scholarship and Yojana then you may visit on BiharJobPortal.com regularly
Latest Update – LNMU UG Part 1 Spot Admission 2022 started from 17.10.2022. ललित नारायण मिथिला यूनिवर्सिटी स्नातक प्रथम खंड कला, विज्ञानं एवं वाणिज्य सत्र 2022-25 में ऑनलाइन आवेदन किये हुए छात्र-छात्राओं का महाविद्यालय में स्पॉट नामांकन शुरू
LNMU UG Part 1 Spot Admission 2022-25 : ललित नारायण मिथिला यूनिवर्सिटी एडमिशन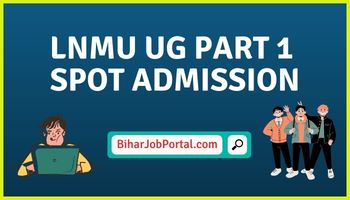 | | |
| --- | --- |
| Article | LNMU UG Spot Admission 2022 |
| Category | Admission |
| University | Lalit Narayan Mithila University |
| Course For Admission | BA | BSc | Bcom |
| Session | 2022-25 |
| Spot Admission | from 17.10.2022 to 22.10.2022 |
| Mode of Application | Online / Offline |
| Official Website | https://lnmu.ac.in/ |
ललित नारायण मिथिला विश्विद्यालय स्नातक स्पॉट एडमिशन 2022
हेलो दोस्तों, आप सभी के लिए एक बहुत अच्छी खबर है की ललित नारायण मिथिला यूनिवर्सिटी द्वारा स्पॉट एडमिशन से सम्बंधित ऑफिसियल नोटिफिकेशन जारी कर दिया गया है अतः वे सभी अभ्यर्थी जिन्होंने अभी तक स्नातक पार्ट 1 में एडमिशन नहीं लिया है वे सभी अभ्यर्थी स्पॉट एडमिशन के लिए ऑनलाइन आवेदन कर सकते है जो 17 अक्टूबर से 22 अक्टूबर 2022 तक चलेगा |
ऐसे विद्यार्थी जिनका एडमिशन प्रथम मेरिट लिस्ट और द्वितीय मेरिट लिस्ट में भी नहीं हुआ है वैसे विद्यार्थी दिनांक 17.10.2022 से 22.10.2022 के बीच स्पॉट नामांकन प्रक्रिया के तहत रिक्त सीटों पर सम्बंधित महाविद्यालयों सीधे नामांकन लेंगे | अधिक जानकारी के लिए ऑफिसियल नोटिफिकेशन अवश्य पढ़े
Admission Detail
There are courses for which Admission is going on.
Bachelor of Arts (BA)
Bachelor Commerce (B.Com)
Bachelor of Science (B.Sc)
Educational Qualification
Candidate have to passed 12th Examination with minimum of 45% in aggregate and a minimum of 45% in the subject concerned. No candidate shall choose Mathematics, Statistics or Geography unless he has passed the intermediate examination in the concerned subject. For seeking admission in B.Com Student who have passed from science subjects need a minimum of 50% marks.
(For More Details See The Notification)
Required document for Admission Form
Passport Size Photo
Signature Scan Copy
High School Mark Sheet & Intermediate Mark Sheet
Caste Certificate & Income Certificate
Photo ID Proof
Personal Mobile Number & Parent's Mobile Number
Bank Information
Important Date
| | |
| --- | --- |
| Spot Admission Start Date | 17.10.2022 |
| Spot Admission Last Date | 22.10.2022 |
Important Links
Also Check –
यदि आपको कोई क्वेश्चन हो तो हमें कमेंट करके जरूर बताये, निचे कमेंट बॉक्स है उसके द्वारा आप हमें सन्देश भेज सकते है या फिर फिर कांटेक्ट पेज से भी समपर्क कर सकते है |
बिहार में निकलने वाली सारी एडमिशन, रिजल्ट और नौकरी की जानकारी इस वेबसाइट पर प्रदान की जाएगी | इसलिए इस वेबसाइट पर आने के लिए हमें गूगल में biharjobportal.com टाइप करे |
FAQ's LNMU UG Part 1 Spot Admission 2022
When will LNMU UG Spot Admission 2022 Start ?
LNMU UG Spot Admission started from 17.10.2022
What is the Last Date for LNMU UG Spot Admission 2022 ?
Last Date for LNMU UG Spot Admission – 22.10.2022