Munger University UG Part 1 Spot Admission 2021-24 : Munger University BA, B.Com & B.Sc Spot Admission is starting from 12 January 2022. Those students who did not take admission in Munger University. Now, students can take admission through Munger University Undergraduate Spot Round Admission
If you want to get all the updates of Bihar Job, Admit Card, Result, Admission, Scholarship and Yojana then you may visit on BiharJobPortal.com regularly
Latest Update – मुंगेर विश्वविद्यालय, मुंगेर के आदेशानुसार छात्र हित में UG Part 1 सत्र 2021-24 में ऑन स्पॉट नामांकन 12.01.2022 को सुबह 10 बजे से 16.01.2022 तक कराया जा सकता है।
Munger University UG Part 1 Spot Admission 2021-24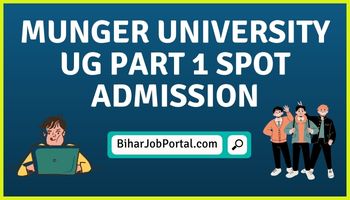 | | |
| --- | --- |
| Article | Munger University UG Spot Admission |
| Category | Admission |
| University | Munger University (PU) |
| Course For Admission | BA | BSc | Bcom |
| Session | 2021-2024 |
| Spot Admission | from 12.01.2022 |
| Mode of Application | Online/ Offline |
| Official Website | www.mungeruniversity.ac.in |
मुंगेर विश्विद्यालय स्नातक स्पॉट एडमिशन 2021
मुंगेर विश्विद्यालय में स्नातक प्रथम वर्ष सत्र 2021-24 में स्पॉट राउंड नामांकन 12 जनवरी 2022 से शुरू होगा जो 16 जनवरी 2022 तक चलेगा । जीं छात्रों से अब तक आवेदन नहीं किया है वे शेष सीटों पर नया आवेदन करते हुए उपरोक्त प्रक्रिया का तहा नामांकन कर सकते है | ऑन स्पॉट नामांकन 12 जनवरी 2022 को सुबह 10 बजे से 16 जनवरी 2022 तक कराया जा सकता है |
मुंगेर यूनिवर्सिटी में स्पॉट राउंड नामांकन का शेड्यूल
Admission Detail
There are courses for which Admission is going on.
Bachelor of Arts (BA)
Bachelor Commerce (B.Com)
Bachelor of Science (B.Sc)
Required document for Admission Form
Passport Size Photo
Signature Scan Copy
High School Mark Sheet & Intermediate Mark Sheet
Caste Certificate & Income Certificate
Photo ID Proof
Personal Mobile Number & Parent's Mobile Number
Important Date
| | |
| --- | --- |
| Spot Admission Start Date | 12.01.2022 |
| Spot Admission Last Date | 16.01.2022 |
Important Link
Apply Online (Spot Admission)
Click Here
(Active on 12.01.2022)
Download Notification
Click Here
Other Information
Click Here
Official Webs

i

te
Click Here
Join Telegram Group
Click Here
Also Check –
About Munger University
Munger University is a state university and was established through bifurcation to Tilka Manjhi Bhagalpur University, Bhagalpur. It has jurisdiction spreading over five districts: Munger, Lakhisarai, Sheikhpura, Jamui and Khagaria under Munger Division in Bihar.
Munger University came into existence on 18th March, 2018 under the Bihar State University (Amendment) Act, 2016 (Bihar Act – 1/2017), and is presently functioning from the SCIENCE Block of R.D & D.J College Munger – 811201, which is situated almost in between ruins of ancient Nalanda and Vikramshila Vishwavidyalaya.
यदि आपको कोई क्वेश्चन हो तो हमें कमेंट करके जरूर बताये, निचे कमेंट बॉक्स है उसके द्वारा आप हमें सन्देश भेज सकते है या फिर फिर कांटेक्ट पेज से भी समपर्क कर सकते है |
बिहार में निकलने वाली सारी एडमिशन, रिजल्ट और नौकरी की जानकारी इस वेबसाइट पर प्रदान की जाएगी | इसलिए इस वेबसाइट पर आने के लिए हमें गूगल में biharjobportal.com टाइप करे |
FAQ's Munger University UG Part 1 Spot Admission
Munger University UG Part 1 Spot Admission Start Date ?
Munger University Spot Admission is starting from 12 January 2022
Last Date for Munger University Spot Admission 2021-24 ?
Munger University Undergraduate Spot Admission Last Date – 16.01.2022