Patna University UG Part 1 Admission 2022 – Patna University invites online application for BA, B.Com & B.Sc Admission Session 2022-25. Those candidates who are interested to take admission in Patna University for Undergraduate course they must read the official notification before apply online. Patna University Graduation Admission 2022, पटना विश्विद्यालय स्नातक एडमिशन 2022
अगर आप पटना यूनिवर्सिटी की सभी अपडेट जैसे एडमिशन, एग्जाम डेट, एडमिट कार्ड, रिजल्ट से जुडी अपडेट पाना चाहते है तो आप BiharJobPortal.com वेबसाइट पर रेगुलर आ सकते है |
Latest News – Patna University UG Admission Online Form 2022 apply last date is extended upto 25.06.2022. Candidates can get apply online link below in the Important Link section.
Patna University UG Part 1 Admission Online Form 2022 : BA, B.Com & B.Sc Admission Session 2022-25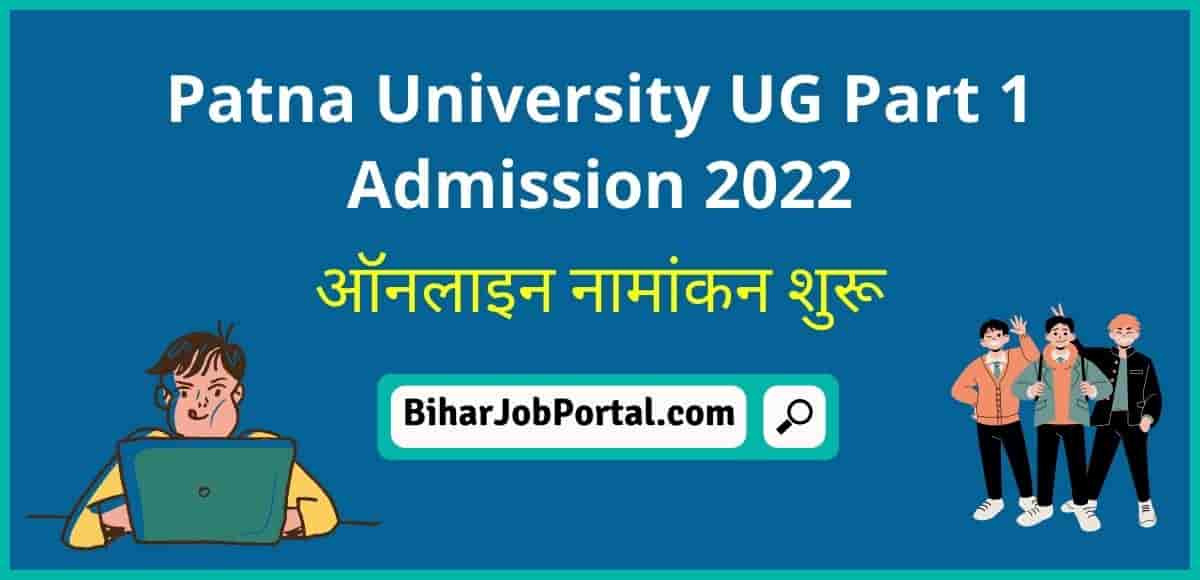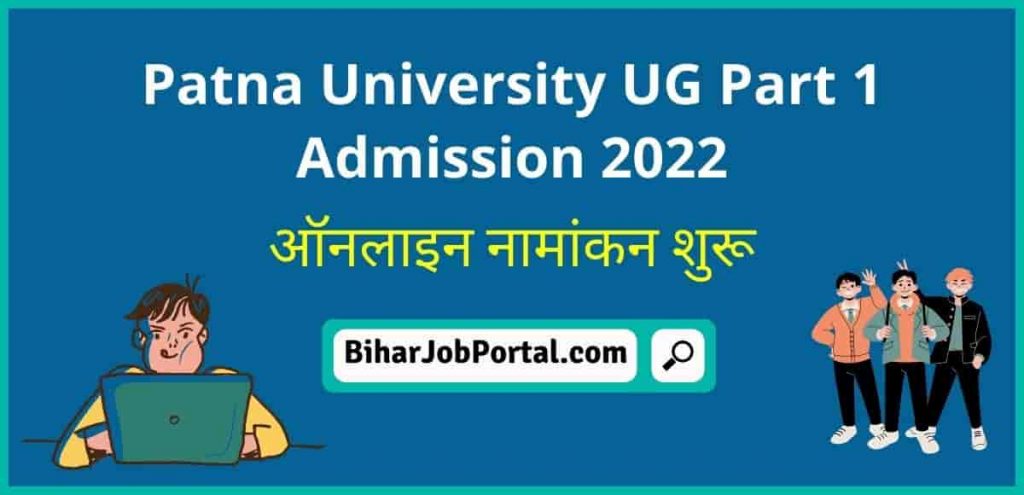 | | |
| --- | --- |
| Article | Patna University UG Part 1 Admission 2022 |
| Category | Admission |
| University | Patna University (PU) |
| Courses | UG (BA, BSC, BCOM etc) |
| Session | 2022-25 |
| Start Apply Online | 02 May 2022 |
| Mode of Apply | Online Mode |
| Official Website | patnauniversity.ac.in |
पटना विश्विद्यालय ग्रेजुएशन पार्ट 1 एडमिशन 2022
पटना विश्विद्यालय में नए सत्र 2022-23 में नामांकन के लिए ऑनलाइन आवेदन फॉर्म भरने की प्रक्रिया 2 मई 2022 से शुरू हो जायेगा | नए सत्र में एडमिशन प्रोसेस को पूरा करने के लिए बीएन कॉलेज को नोडल कॉलेज बनाया है, बीएन कॉलेज ही एडमिशन प्रक्रिया कंडक्ट करेगा। पटना यूनिवर्सिटी में ग्रेजुएशन में नए सत्र में एडमिशन के लिए ऑनलाइन फॉर्म भरने की प्रक्रिया 2 मई 2022 से शुरू हो जायेगा और एडमिशन फॉर्म 25 जून 2022 तक भर सकते है |
इसके अलावा, ग्रेजुएशन में एडमिशन के लिए लिखित प्रवेश परीक्षा भी लिया जायेगा । इसके लिए 09 जुलाई 2022 की तिथि तय की गयी है. ऑनलाइन आवेदन की प्रक्रिया पूरी तरह से ऑनलाइन व केंद्रीकृत होगी, एक ही आवेदन पर छात्र सभी कॉलेज के लिए एलिजिबल होंगे |
पटना यूनिवर्सिटी ग्रेजुएशन एडमिशन 2022 का पूरा प्रोसेस
वे सभी विद्यार्थी जिन्होंने इंटरमीडिएट पास कर लिए और ग्रेजुएशन में एडमिशन लेना चाहते है तो उन सभी के लिए यह एक अच्छी खबर है की पटना यूनिवर्सिटी के नए सत्र 2022-25 में ग्रेजुएशन एडमिशन के लिए 02 मई 2022 से ऑनलाइन नामांकन शुरू हो जायेगा अतः सभी विद्यार्थी अपना नामांकन 02 मई से करवा सकते है और नामांकन करवाने के बाद, सभी आवेदन किये गए विद्यार्थियों का प्रवेश परीक्षा होगा जो की 09 जुलाई 2022 को कंडक्ट करवाया जायेगा | उसके बाद, पटना यूनिवर्सिटी द्वारा मेरिट लिस्ट जारी किया जायेगा जिसके बाद सभी चयनित अभ्यर्थी पटना यूनिवर्सिटी के किसी भी कॉलेज में एडमिशन ले सकते है |
PU UG Admission 2022
Courses Name – Undergraduate (BA, B.Com & B.Sc)
Session : 2022-25
Educational Qualification
The candidate should have passed the 12th/ Intermediate examination from recognized board.
How to Apply Online Patna University UG Admission 2022
The procedure is given below for applying online.
First of all, collect all your required document for online apply.
Now visit official website – patnauniversity.ac.in
Click on "Apply Online" tab.
Find the apply link for "New Register and Existing User Login" under Apply Online PUCET 2022
Fill up the complete online form.
After final submission of online application, take printout of the online filled application form.
Important Date
| | |
| --- | --- |
| Apply Start Date | 02.05.2022 |
| Apply Last Date | 25.06.2022 (Date Extended) |
Important Link
College of Patna University
About Patna University
Patna University was established in the year 1917 and it functioned as affiliating and examining body for over 30 years. On January 2, 1952 it was converted into a purely teaching -cum-residential University with the territorial jurisdiction over Metropolitan Patna. It is one of the oldest Universities in the Country. In Bihar it is the first, and in the subcontinent, it is the seventh oldest University. The University buildings are located on the bank of River Ganges and in the second Campus i.e. Saidpur Campus.
The Patna University has 31 postgraduate departments in the faculties of Science, Social Sciences, Humanities, Education, Commerce, Law and 10 constituent colleges, apart from Patna Medical College and Patna Dental College in the Faculty of Medicine whose management and control are with the State Government.
यदि आपको कोई क्वेश्चन हो तो हमें कमेंट करके जरूर बताये, निचे कमेंट बॉक्स है उसके द्वारा आप हमें सन्देश भेज सकते है या फिर फिर कांटेक्ट पेज से भी समपर्क कर सकते है |
बिहार में निकलने वाली सारी एडमिशन, रिजल्ट और नौकरी की जानकारी इस वेबसाइट पर प्रदान की जाएगी | इसलिए इस वेबसाइट पर आने के लिए हमें गूगल में biharjobportal.com टाइप करे |