Simultala Awasiya Vidyalaya 6th Class Pre Exam Admit Card 2022 – Bihar School Examination Board (BSEB) released Call Letter for Entrance Exam of 6th Class regarding Simultala Awasiya Vidyalaya Admission. Those Students who want to download Mains Exam admit card they can download admit card now by given link below. SAV Exam Admit Card 2022, सिमुलतला आवासीय विद्यालय एडमिट कार्ड 2022
Latest Update – Simultala Awasiya Vidyalaya 6th Class Mains Exam Admit Card 2022 is released on 03.01.2022. Candidates can download Admit Card from given below link in the important link section
Simultala Awasiya Vidyalaya 6th Class Mains Exam Admit Card 2022 Download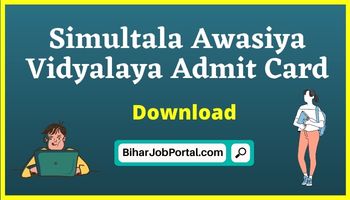 | | |
| --- | --- |
| Article | Simultala Awasiya Vidyalaya Admit Card 2022 |
| Category | Admit Card |
| School Name | Simultala Awasiya Vidyalaya |
| Exam Type | 6th Class Entrance Exam |
| Session | 2022-2023 |
| Mains Exam Admit Card | 03.01.2022 |
| Mains Exam Date | 20.01.2022 |
| Mode of Download | Online Mode |
| Official Website | biharboardonline.com |
सिमुलतला आवासीय विद्यालय प्रारम्भिक प्रवेश परीक्षा एडमिट कार्ड 2022
सिमुलतला आवासीय विद्यालय में छठी कक्षा में 120 सीट पर प्रवेश का आयोजन हर साल होता है | यह आवासीय विद्यालय बिहार के जमुई जिला में है | सिमुलतला आवासीय विद्यालय में प्रवेश के लिए विद्यार्थियों को प्रारंभिक परीक्षा, मुख्य परीक्षा और साक्षात्कार पास करना अनिवार्य है |
बिहार विद्यालय परीक्षा समिति द्वारा सिमुलतला आवासीय विद्यालय में नामांकन के लिए मुख्य प्रवेश परीक्षा के लिए एडमिट कार्ड BSEB के ऑफिसियल वेबसाइट पर 03 जनवरी 2022 से उपलब्ध रहेगा | ऐसे विद्यार्थी जो एडमिट कार्ड डाउनलोड करना चाहते है वे नीचे दिए गए लिंक की मदद से भी एडमिट कार्ड डाउनलोड कर सकते है |
Simultala Awasiya Vidyalaya 6th Class Exam Admit Card 2022
एडमिट कार्ड डाउनलोड करने के लिए निम्नलिखित Step Follow करे |
Visit official Website – secondary.biharboardonline.com
Click On menu Link "Reg/ Admit Card"
Now you have to click on link "Mains Exam Admit Card for Exam" Under Simultala Awasiya Vidyalya Entrance Test
Enter the required details
Now click on button link "Search"
Important Date
| | |
| --- | --- |
| Mains Exam Admit Card | 03.01.2022 |
| Mains Exam Date | 20.01.2022 |
Important Link
What Details Mentioned in SAV Admit Card ?
What type of information is given in admit card is mentioned below –
Name of Candidate
Father's Name
Mother's Name
Address of Candidate
Previous Schools Name of Candidate
Registration Number
Date of Birth
Exam Centre
Exam Time and Exam Duration
Candidate Signature and Photo
Invigilator Signature Blank Space
यदि आपको कोई क्वेश्चन हो तो हमें कमेंट करके जरूर बताये, निचे कमेंट बॉक्स है उसके द्वारा आप हमें सन्देश भेज सकते है या फिर फिर कांटेक्ट पेज से भी समपर्क कर सकते है |
बिहार में निकलने वाली सारी एडमिशन, रिजल्ट और नौकरी की जानकारी इस वेबसाइट पर प्रदान की जाएगी | इसलिए इस वेबसाइट पर आने के लिए हमें गूगल में biharjobportal.com टाइप करे |
FAQ's Simultala Awasiya Vidyalaya Pre Admit Card 2021
सिमुलतला आवासीय विद्यालय मुख्य प्रवेश परीक्षा कब होगा ?
सिमुलतला आवासीय विद्यालय मुख्य प्रवेश परीक्षा 20 जनवरी 2022 को आयोजित होगा |
सिमुलतला आवासीय विद्यालय मुख्य प्रवेश परीक्षा का एडमिट कार्ड कब आएगा ?
बिहार विद्यालय परीक्षा समिति द्वारा 03 जनवरी 2022 को मुख्य प्रवेश परीक्षा का एडमिट कार्ड जारी कर दिया जायेगा
Where to Download Simultala Awasiya Vidyalaya Pre Exam Admit Card 2021 ?
Applicants can download dummy admit card from the official website – secondary.biharboardonline.com
सिमुलतला आवासीय विद्यालय प्रवेश परीक्षा 2021 का एडमिट कार्ड कब आएगा ?
बिहार विद्यालय परीक्षा समिति द्वारा प्रारम्भिक प्रवेश परीक्षा के लिए 24 November 2021 को प्रारम्भिक परीक्षा का एडमिट कार्ड जारी कर दिया जायेगा |