VKSU UG 1st Merit List 2023 – Veer Kunwar Singh University has released 1st Merit List for BA, B.Com & B.Sc Admission session 2023-27. Students can download Merit List. Those students who wants to take admission in part 1. They may download the latest Merit List. Veer Kunwar Singh University UG Merit List, VKSU Cut Off List
Latest Update – VKSU UG Admission 1st Merit List 2023 is released on 16.06.2023. Candidates can download the 1st Merit List by the given link below in the Important Link section.
VKSU UG 1st Merit List 2023 – Download 1st Cutoff List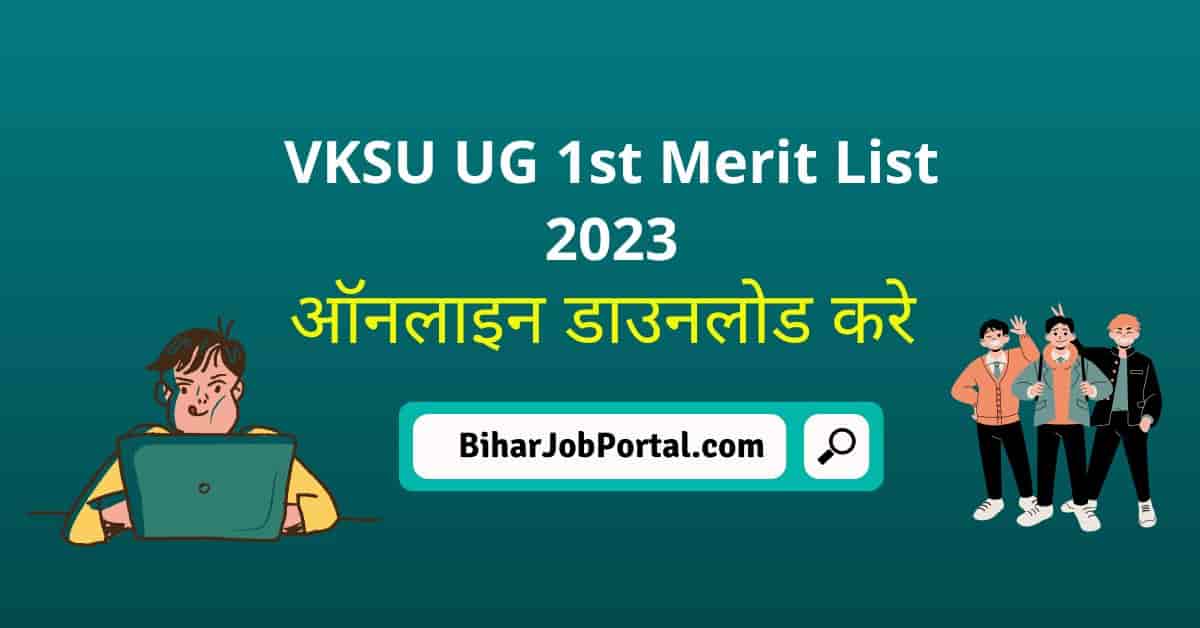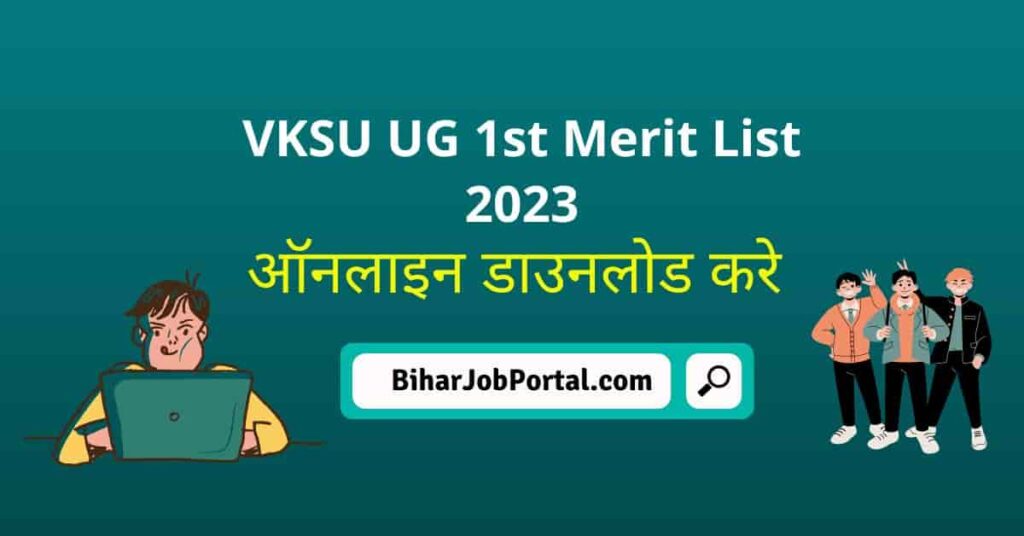 | | |
| --- | --- |
| Post | VKSU UG Part 1 Merit List |
| Category | Merit List |
| University | Veer Kunwar Singh University (VKSU) |
| 1st Merit List | 16.06.2023 |
| Session | 2023-27 |
| Official Website | vksu.ac.in |
वीर कुंवर सिंह विश्विद्यालय स्नातक मेरिट लिस्ट
वीर कुंवर सिंह विश्विद्यालय स्नातक सत्र 2023-27 में नामांकन के लिए 1st मेरिट लिस्ट 16 Junr 2023 को प्रकाशित किया है और मेरिट लिस्ट के आधार पर दाखिला भी शुरू हो जायेगा | इसलिए ऐसे विद्यार्थी जिन्होंने एडमिशन के लिए ऑनलाइन आवेदन किया है वे 1st मेरिट लिस्ट डाउनलोड कर सकते है |
Selection Process
After the end of UG admission application form process, the university scrutiny the applied application form on the basis of student marks in intermediate and category as per admission rules. According to colleges seats and number of students applied, the university will release first, second, third and so on merit list and cut off for students for taking admission on selected college.
Document Required for VKSU UG Online Form
You must have all document which given below –
Valid Email ID
Active Mobile Number
High School and Intermediate Certificate
Aadhar Card
Residence Proof
Scanned Photo and Signature in jpeg format
Photo ID
How to Check VKSU Merit List Status
अगर आप देखना चाहते है की आपका नाम मेरिट लिस्ट में आया है या नहीं और आपका नाम किस कॉलेज में आया है तो आप नीचे दिए गए स्टेप्स को फॉलो कर सकते है –
सबसे पहले ऑफिसियल वेबसाइट वेबसाइट पर जाये – vksuonline.in
उसके बाद, "Applicant Login" पर क्लिक करें |
अब अभ्यर्थी अपना "Username" , "Password" और captcha डालने के बाद "Login" बटन पर क्लिक करें |
इसके बाद आप अपना Merit Status चेक कर सकते है और इसके अलावा, आप यह भी चेक कर सकते है आपका नाम किस कॉलेज में आया है |
Important Date
| | |
| --- | --- |
| First Merit List | 16.06.2023 |
Important Links
Also Check –
List of Colleges
There are list of college comes under the VKSU.
H.N.S.B. JANTA COLLEGE, DHANSOI, BUXAR
M.P. COLLEGE, MOHANIA KAIMUR
R.K.S. COLLEGE, DALMIANAGAR, ROHTAS
R.N. SAH SARVODAYA COLLEGE GANJ-BHARSARA, ROHTAS
H.D. Jain College, Ara
Maharaja College, Ara
S.B. College, Ara
Jagjeevan College, Ara
M.M. Mahila College, Ara
M.V. College, Buxar
D.K. College, Dumraon
Shersah College, Sasaram
S.P. Jain College, Sasaram
Rohtas Mahila College, Sasaram
Sri Shankar College, Sasaram
A.S. College, Bikramganj
J.L.N. College Dehri-on-sone
S.N. College, ShahmalKhairadeo
Mahila College, Dalmianagar
S.V.P. College, Bhabhua
Gram Bharti College, Ramgarh
About VKSU UG Admission
Veer Kunwar Singh University named after national hero and legendary freedom fighter Veer Kunwar Singh. It is a public University situated in Ara District of Bihar. This university provide Undergraduate and Postgraduate courses at higher level. It was established by the Bihar University Act 1976.
यदि आपको कोई क्वेश्चन हो तो हमें कमेंट करके जरूर बताये, निचे कमेंट बॉक्स है उसके द्वारा आप हमें सन्देश भेज सकते है या फिर कांटेक्ट पेज से भी समपर्क कर सकते है |
बिहार में निकलने वाली सारी एडमिशन, रिजल्ट और नौकरी की जानकारी इस वेबसाइट पर प्रदान की जाएगी | इसलिए इस वेबसाइट पर आने के लिए हमें गूगल में biharjobportal.com टाइप करे |
FAQ's VKSU 1st Merit List 2023?
When will Veer Kunwar Singh University release 1st Merit List for UG Admission ?
Veer Kunwar Singh University will released 1th Merit List 16.06.2023. Students can check 1st Merit List.
वीर कुँवर सिंह विश्विद्यालय स्नातक एडमिशन के लिए पहला मेरिट लिस्ट कब जारी करेगा ?
वीर कुँवर सिंह विश्विद्यालय द्वारा स्नातक एडमिशन के लिए पहला मेरिट लिस्ट जारी कर दिया गया है |
What is the Official Website to Check VKSU Merit List?
If you want to check the VKSU List on the official website then official website is vksuonline.in. Although, If you want to get all the updates of Veer Kunwar Singh University Merit List then you may visit on biharjobportal.com
What is the VKSU Admission Helpline Number/Contact Number?
VKSU Admission helpline number/Contact Number for students – 8382871823