VKSU UG Part 1 Exam Online Form 2021-24 : Veer Kunwar Singh University (VKSU), Ara invites Online Application Form for UG Part 1 Exam 2022. Those candidate who are studying in UG Session (2021-24) can fill up the exam online form. VKSU Part 1 Exam Form 2022, वीर कुँवर सिंह विश्विद्यालय पार्ट 1 परीक्षा फॉर्म 2022
अगर आप वीर कुँवर सिंह यूनिवर्सिटी से सम्बंधित सभी अपडेट पाते रहना चाहते है तो आप हमारे वेबसाइट BiharJobPortal.com पर रेगुलर आ सकते है |
Latest Update – VKSU UG Part 1 Exam Form 2022 is started from 01.12.2022. Candidates can fill up online form by given link below in the Important Link section.
VKSU UG Part 1 Exam Online Form 2021-24 वीर कुँवर सिंह विश्विद्यालय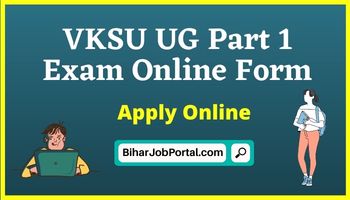 | | |
| --- | --- |
| Article | VKSU UG Part 1 Exam Online Form 2022 |
| Category | Exam Form |
| University | Veer Kumwar Singh University (VKSU) |
| Course | Undergraduate Part 1 |
| Session | 2021-24 |
| Form For | Exam Form |
| Mode of Apply | Online Mode |
| Official Website | www.vksu.ac.in |
वीर कुँवर सिंह विश्विद्यालय पार्ट 1 परीक्षा फॉर्म 2022
वीर कुंवर सिंह यूनिवर्सिटी, आरा BA/ B.Com/ B.Sc पार्ट 1 का परीक्षा के लिए ऑनलाइन फॉर्म शुरू हो गया है ऐसे विद्यार्थी जो वीर कुँवर सिंह के स्नातक पार्ट 1 के छात्र-छात्रा है वे ऑनलाइन परीक्षा फॉर्म भर सकते है | इसके अलावा ऑनलाइन फॉर्म भरने की अंतिम तिथि 10 November 2022 तक है इसलिए विद्यार्थी 10 November से पहले परीक्षा फॉर्म भर सकते है |
Required Documents for VKSU Exam Form
सभी विद्यार्थियों को परीक्षा फॉर्म भरने के लिए किन दस्तावेजों की जरुरत होगी उसका लिस्ट नीचे दिया गया है –
Registration Number of the Applicant
Valid Email ID
Active Mobile Number
Photo of the Applicant
Signature of the Applicant
How can you fill up the VKSU UG Part 1 Exam Online Form
Before the exam conducted by university, the university releases the notification form Exam online form for the upcoming examination. So here is the same if you are in UG session 2021-24, then follow the instruction as given below –
Exam online Form Filling Process
First of all, visit official website – www.vksu.ac.in
Now, you have to click on "Online Admission" Link
After Click on "online admission", you will be redirected to vksu exam form official website – http://vksuonline.in/
Now Click on Link "UG Examination form Session 2021-24" and you will be redirected to http://exam.vksuonline.in/
You will be displayed the Dashboard. In the Dashboard, you will be displayed the Link in Green Button "Examination Form Portal" and Notification link is given in the sidebar.
Click on link "Examination Form Portal" for exam form filling.
Now Click on Link "UG/ PG Semester Exam Forms" under "Fill New Form Tab".
Now you will be appeared the the Form as given below in the image.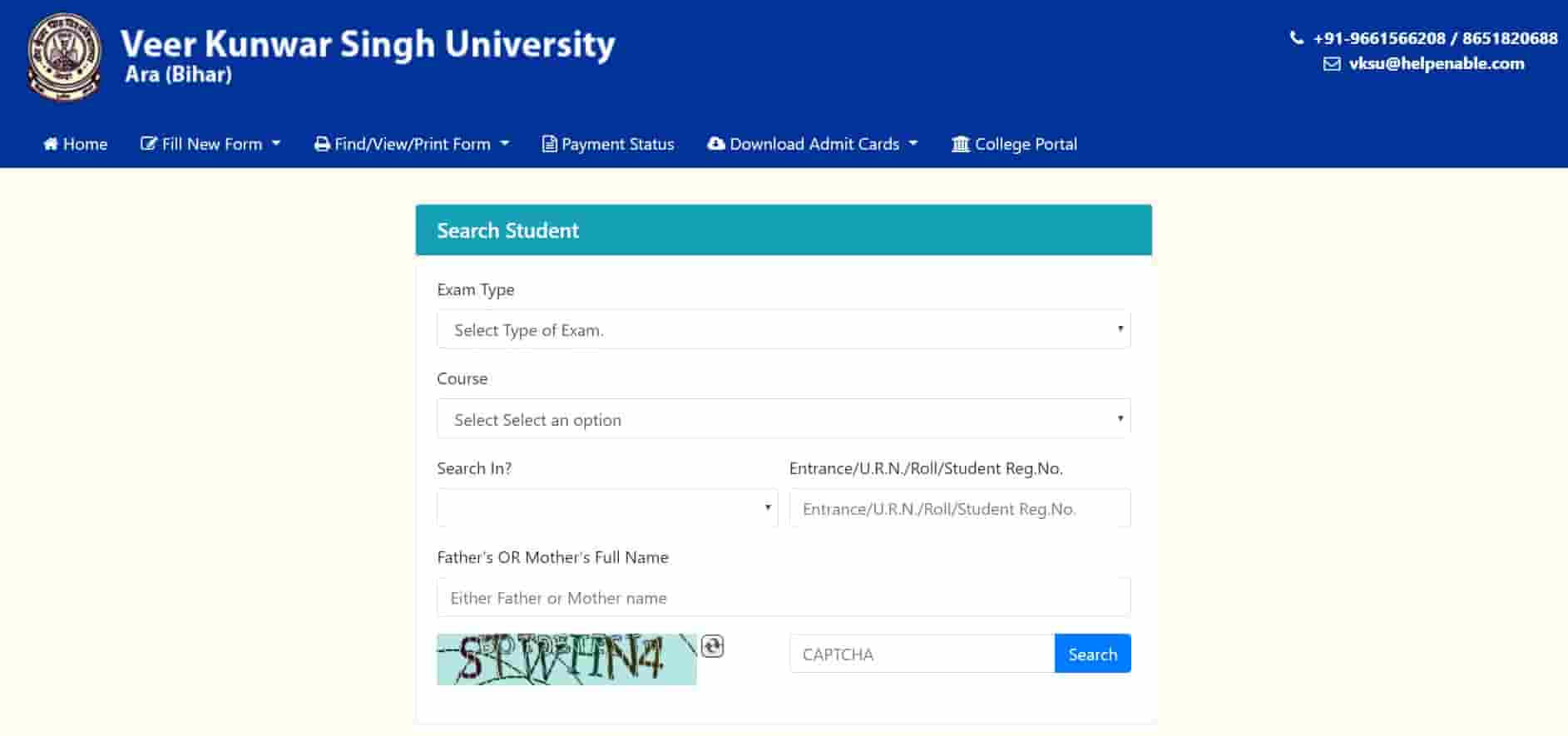 Fill up the complete form.
At final step, you will have to printout the final exam online filled application form.
Application Fee
General / OBC – Rs.395/-
SC / ST – Rs.195/-
Pay through online mode
Important Date
| | |
| --- | --- |
| Start Online Exam Form Filling | 01.12.2022 |
| Last Date for Online Exam Form | 10.12.2022 |
Important Link
Also check –
College List Under Veer Kunwar Singh University
There are affiliated Colleges list under VKSU –
Maharshi Chyavan University, Buxar
Kedarnath Singh College, Buxar
Pranav Chattarji University, Buxar
D.K.M. College, Buxar
Sumitra Mahila University, Buxar
Hari Narayan Shah Bhuvneshwar Janta College, Dhansoi
Lokmanya Bal Gangadhar Tilak University, Buxar
Dandi Swami Sahjanand Sant Vinobha Bhave University, Buxar
Jannayak Karpuri Thakur Vidhi University, Buxar
K.K. Mandal University, Buxar
Bhupesh Gupt University, Bhabhua
Maharana Pratap University, Kaimur
Gram Bharti Balika Vidyapith, Kaimur
Rajarshi Sharivaahan Degree University, Kaimur
Saheed Sahjay Singh Mahila College, Kaimur
Manorma Devi Ramrati Patel Degree Mahila University, Kaimur
Jagdev Memorial University, Kaimur
Tapeshwar Singh Indu Mahila college, Ara
Alhafij College, Ara
Paihari Maharaj Jee College, Ara
Kunwar Singh University,Ara
Jan Sahkari degree University, Bhojpur
Many More college
About Veer Kunwar Singh University
Veer Kunwar Singh University, Ara named after the well known national hero and legendary freedom fighter Veer Kunwar Singh, is a public university in the city of Arrah in the state of Bihar, India. It was established by the Bihar University Act 1976.
Ranked among the Top Universities of Bihar, university has earned recognition as a hub of higher learning and research in the frontier disciplines of science, humanities and social sciences. Over the years, through its progressive academic and extension activities, the University has played a vital role in the generation and dissemination of knowledge, and in enhancement of human skills.
यदि आपको कोई क्वेश्चन हो तो हमें कमेंट करके जरूर बताये, निचे कमेंट बॉक्स है उसके द्वारा आप हमें सन्देश भेज सकते है या फिर फिर कांटेक्ट पेज से भी समपर्क कर सकते है |
VKSU UG Part 1 Online Examination Form, VKSU Part 1 Exam Form
बिहार में निकलने वाली सारी एडमिशन, रिजल्ट और नौकरी की जानकारी इस वेबसाइट पर प्रदान की जाएगी | इसलिए इस वेबसाइट पर आने के लिए हमें गूगल में biharjobportal.com टाइप करे |
FAQ's VKSU UG Part 1 Exam Online Form 2022
What is the Last Date to Fill Up UG Part 1 Exam Form 2022?
Students can fill up UG Part 1 Exam Form till 10.12.2022
How to Fill Up VKSU Part 1 BA B.Com B.Sc Exam Form Session 2021-24?
Those students who wants to fill up online exam form. They can visit the official website of VKSU and fill up form.