Bihar Labour Resources Department, Govt. of Bihar keep releasing the notification for Bihar Rojgar Mela Bharti 2020 at District Level. Those who are interested in Technical and Non Technical Area Job can apply for Bihar Rojgar Niyojan Mela Bharti. All information related to Rojgar mela is given below. You can find the detail.
Latest Update – Jan 24 to 15 feb 2020 Mela Schedule has released now. You can download the notice from given link in the important link section.
Bihar Rojgar Mela Bharti 2020 – Pramandal Niyojan Mela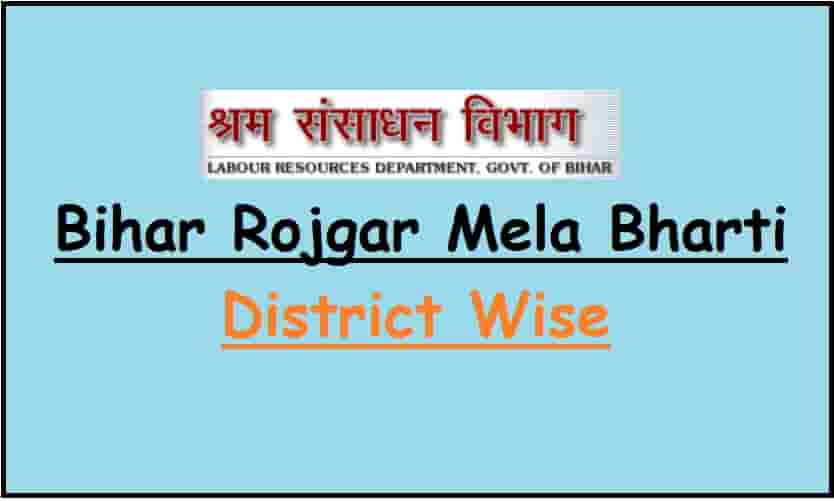 | | |
| --- | --- |
| Article | Bihar Rojgar Mela Bharti 2020 |
| Category | Bihar Job |
| Authority | Labour Resource Department, Bihar |
| State | Bihar |
| Vacancy Post | Various Post Under Rojgar Mela |
| No. of Post | No Fixed |
| Selection Procedure | Interview |
| Mode of Apply | Online Mode |
| Official Website | http://labour.bih.nic.in/ |
About Bihar Rojgar Mela
बिहार रोजगार मेला बिहार के युवाओ को रोजगार प्रदान करने का पहल है | ये बिहार नियोजन मेला बिहार श्रम संसाधन विभाग द्वारा आयोजित करवाया जाता है | रोजगार मेला का आयोजन समय समय पर होता रहता है जिसमे विभिन्न कम्पनिया आती है और युवाओ को इंटरव्यू के माध्यम से सेलेक्ट करती है | यह समय समय पर बिहार के जिले में आयोजित करवाया जाता है |
Educational Qualification
The candidate have qualification  –
5th pass
8th Pass
10th Pass
ITI Pass
12th Pass
Diploma or Higher Education
Online Registration Form Before Going to Rojgar Mela
(मेला मे भाग लेने से पहले यह जरूर करे |)
The candidate need to fill up the registration form before going to Bihar Rojgar Mela –
First of all, Keep your all required document for online registration.
Visit Official Website of NCS Portal –  https://www.ncs.gov.in/ 

(Direct Link is given below in the important link section)

Click on Job Seeker Tab.
Click on Link "New User/ Sign Up" Button (Place at left side corner)
Registration form will Open.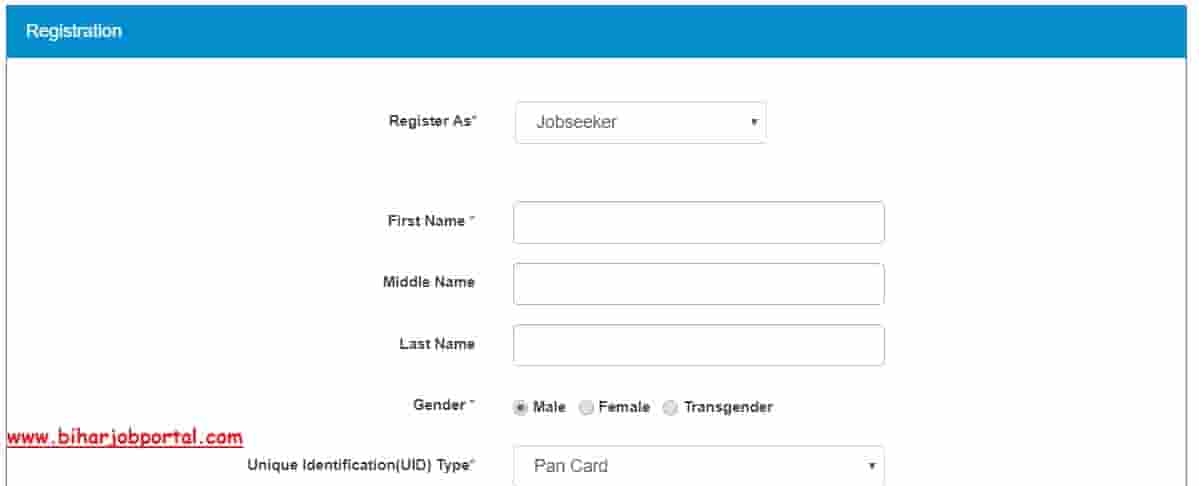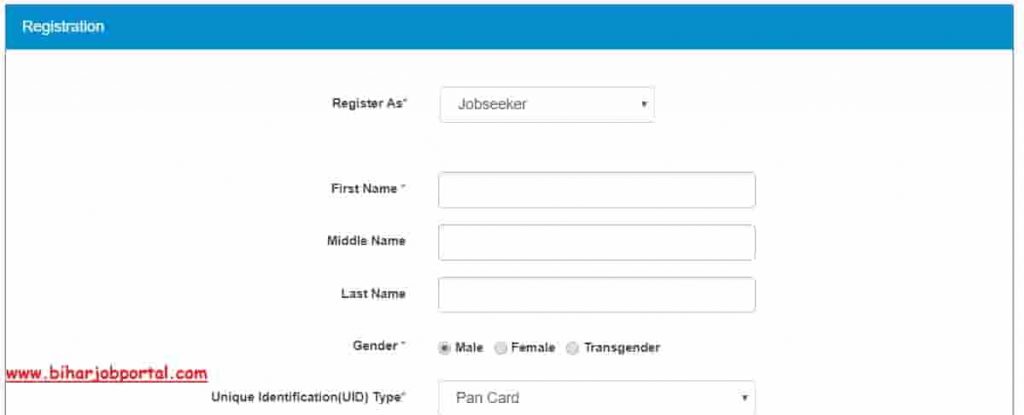 Fill up the Registration Form Step By Step (Given below)
Register as – Select "Job Seeker" Option
First Name (Mandatory)
Middle Name (Not Mandatory)
Last Name (Not Mandatory)
Gender
Date of Birth
Guardian/ Father's Name (Mandatory)
Highest Education Level (Educational Qualification that you have)
State – Choose Bihar
Email ID (Not Mandatory)
Mobile Number(Mandatory)
Password
Retype Password
Unique Identification (UID) Type – Choose One Pan Card/ Aadhar Card/ Other (Mandatory)
Unique Identification (UID) Number (Mandatory)
Choose Your Username
Job preference/ Key Skill – Write Skill that you have, You can add multiple skill (Separate skill by ; semicolon)
Enter Security Code.
Tick mark agree terms and conditions
Finally Submit the form.
Print out the form.
Document Required During Rojgar Mela
The Candidate need to carry all required document while Rojgar Mela. The document list is given below.
Copy of Biodata (3 Copies)
All Educational Qualificaiton Certificate – 10th/ 12th/ UG/ PG/ Diploma(3 Copies)
Photo ID (Aadhar/ Driving License etc)
Passport Size Photo (3 Copies)
Rojgar Mela Scheldule and Place
Time – 10:00 AM to 04:00 PM
| | |
| --- | --- |
| आंबेडकर नगर भवन, परिसर, किशनगंज | 24 to 25 January 2020 |
| सरकारी औद्योगिक प्रशिक्षण संसथान, परिसर, कटिहार | 31 January to 01 February 2020 |
| सरकारी औद्योगिक प्रशिक्षण संसथान, परिसर, मोतिहारी | 01 to 02 February 2020 |
| औद्योगिक प्रशिक्षण संसथान का मैदान, सुपौल | 05 to 06 February 2020 |
| औद्योगिक प्रशिक्षण संसथान, तैलिया परिसर, बांका | 07 to 08 February 2020 |
| गया कॉलेज, खेल परिसर, गया | 14 to 15 February 2020 |
Important Link
यदि आपको कोई क्वेश्चन हो तो हमें कमेंट करके जरूर बताये, निचे कमेंट बॉक्स है उसके द्वारा आप हमें सन्देश भेज सकते है या फिर फिर कांटेक्ट पेज से भी समपर्क कर सकते है |
बिहार में निकलने वाली सारी एडमिशन, रिजल्ट और नौकरी की जानकारी इस वेबसाइट पर प्रदान की जाएगी | इसलिए इस वेबसाइट पर आने के लिए हमें गूगल में biharjobportal.com टाइप करे |
| | |
| --- | --- |
| बिहार जॉब की जानकारी के लिए यहाँ पर जाए | Bihar Job |
| एडमिशन से संभंधित जानकारी के लिए यहाँ पर जाए | Admission |
| Result से संभंधित जानकारी के लिए यहाँ पर जाए | Result |
| Job and Career Discussion के whatsapp Group ज्वाइन करे | Join Whatsapp Group |
Bihar Rojgar Mela Bharti 2020, Pramandal Niyojan Mela Bharti 2020, Madhepura Rojgar Mela Bharti 2020, Madhepura Rojgar Mela Bharti 2020, Bhojpur Rojgar Mela Bharti 2020, Khagaria Rojgar Mela Bharti 2020, Jehanabad Rojgar Mela Bharti 2020,
For getting all bihar admission, result and govt job notification visit our website regularly. Type always in google search biharjobportal.com